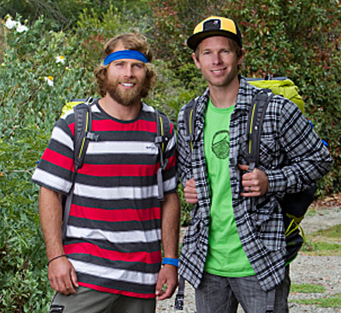 by Gina Scarpa
Snowboarders Andy Finch and Tommy Czeschin seemed like an unstoppable force this season on The Amazing Race. After winning six legs in a row, they took off too quickly for the pit stop in this week's episode and ended up at the back of the pack. They checked in last at the mat and were shockingly eliminated from the competition. Today, we caught up with Andy and Tommy to talk abut their friendship, their wins, and if they would've changed the outcome of their experience on The Amazing Race.
Q. Gina, RealityWanted: What made the two of you decide to try out for The Amazing Race?
A. Andy: I really gotta give my wife, Amber, the credit. It was her idea. I had watched some shows to see if it would be fun. She was the force behind it, to submit a video, and when it came down to it, I had to pick an Olympic snowboarder to come with me and I picked Tommy.
Q. Gina, RealityWanted: Have you known each other for a long time?
A. Tommy: We knew each other for like, 13 years, from doing all the different snowboard events. We had done a lot of traveling together.
Q. Gina, RealityWanted: It seems like your background in sports, your comfort in the water, and your experience traveling really helped you this season.
A. Andy: It did help us but not in the way I thought it was going to. With traveling, I thought it would be good but it wasn't. But where we were really good was adapting to sleeping and eating. We really didn't eat during the race until we stopped. We'd sleep whenever we could.
Q. Gina, RealityWanted: There are some debates among fans over the way that you won some of the legs, when other teams had made a mistake. One of the biggest points of contention was when you beat Ernie and Cindy to the mat after they used their Express Pass. It's a race and a competition though, right? Did you see any reason to hand a win over to another team?
A. Andy: We had to give it our all. It was a game and our goal was to make it to the finals. With Cindy and Ernie, we didn't think we'd catch them but we did. It has nothing to do with letting other teams win. If they would've beaten us by three feet, we would've been stoked for them.
A. Tommy: We tried to run the race as best we can and just be really aware of our surroundings and be alert. It really did pay off for us! We read our clue 10 times, and then 10 more times, and did exactly what it said. People say, "Oh you should've let them have it!" It's a race! You don't give someone something when you're racing..
Q. Gina, RealityWanted: Do you wish that you had waited a little longer before taking off from the dancers this week to head to what you thought was the pit stop?
A. Andy: We watched them about three times before we took off. We looked those girls up and down from their hair braids to their toes. We really searched those dresses. Whether we didn't stand far back enough... Panama Viejo was only on one dress and they only stopped for a few seconds in between each dance. It's easy to look back and know what we could've done better at that task.
A. Tommy: It was a very, very tough challenge. Hindsight is 20/20. If we could do it over again, absolutely, we would've done it differently. Watching the show last night made us feel better that Jeremy was the only one that got that challenge.
A. Andy: That was genius of Jeremy to draw it. He had no idea.
Q. Gina, RealityWanted: Speaking of Jeremy, it must have been frustrating to you guys that his cab driver called the other two to let them know to head to Panama Viejo.
A. Andy: That basically came down to Tommy and I being separated. We were out front with our taxi driver and they were all clumped up. You see the drivers hanging out and know they're friends. They had no idea that we were off in some other cab.
A. Tommy: Our downfall was not being in the pack and not being in the taxi loop. The other two teams were in the right place at the right time with the right taxi drivers.
Q. Gina, RealityWanted: You were frontrunners for so long! To get eliminated right before the finals must have been tough.
A. Andy: God showed up so much in our racing because we made plenty of other mistakes that could have been the death of us. To get that far, I felt like it was meant to be. It's almost kind of silly. I have no regrets, no difficulties with it at all. I was actually kind of pleased.
A. Tommy: I was just gonna say that it was tough because going through the whole thing, we got better every leg and learned from our mistakes. Our goal was to make the finals. It was tough not to be there but we gave every leg to God and we felt like he blessed us along the way. We got to travel the world. It was a great experience.
Q. Gina, RealityWanted: So if The Amazing Race called you to come back for an all-star season tomorrow...
A. Tommy: Absolutely! Put me in Coach!
A. Andy: We're ready now.

The Amazing Race airs Sundays at 8/7c on CBS.
(Image courtesy of CBS)

Follow Gina @ginascarpa and "Like" her on Facebook!