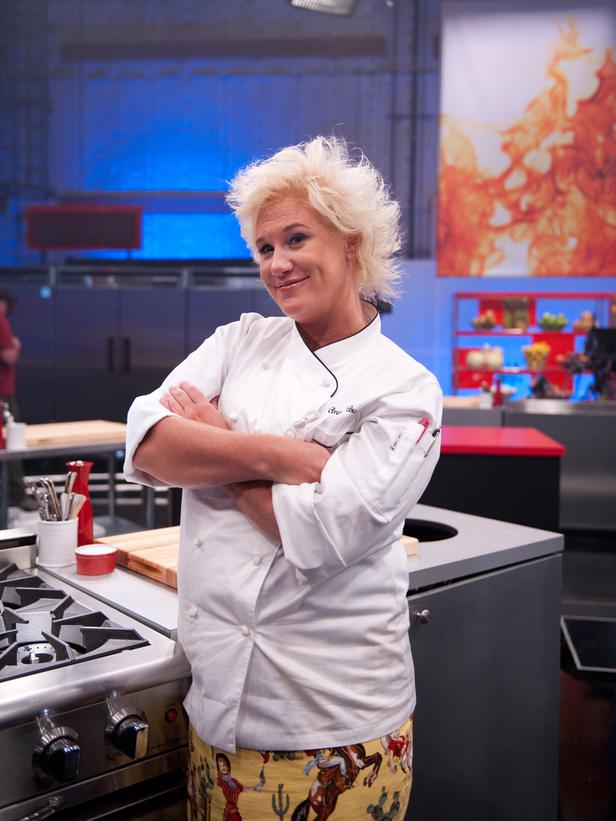 by Danae Young
This week on The Next Iron Chef, the chefs took part in a special auction. 
Risk was the Chairman's Challenge this week. There were five different types of food the chefs had to bid on. The food they end up getting is the centerpiece for their dish. 
The catch? They weren't bidding with money. They were bidding with cooking time. Whoever bid that they could cook the food the fastest, won. 
Whichever chef gets the last type of food gets five minutes less of cooking time than the lowest bid. 
The first bid was Waygu Beef. Chef Zakarian won with 35 minutes. 
The second bid was Canned Sardines. Chef Burrell won with 50 minutes. 
Chef Chiarello won the Live Lobster with 25 minutes. 
Chef Falkner won the Tuna Jerky with 25 minutes as well, which left the last dish to Chef Guarnaschelli. It was Leg of Lamb and she had to cook her meal in just 20 minutes. 
It wasn't until after they finished cooking that Chef Burrell found out her advantage from winning last week. 
She got to be another judge of everyone's food and send one of them into the Secret Ingredient Showdown. 
She ate Chef Zakarian's dish first. He made Waygu Beef Salad Nicoise Style. She thought the meat could have been cooked longer. 
Chef Chiarello made Butter Poached Lobster with Saffron Risotto. She thought the rice was stiff. 
Chef Guaraschelli made Lamb Sausage with Carrot Puree and Greens. Chef Burrell thought it was flavorful, but dry. 
Chef Falkner made a Tuna Jerky Souffle with Dashi Cream Sauce. She didn't really taste the tuna jerky. 
The judges tasted everyone's food next. 
Chef Burrell made three dishes: Sardine Parmesan Bread Pudding, Fried Sardine Spines and Sardines on Fried Beet Chips. 
Chef Falkner won the challenge and Chef Burrell decided to send Chef Zakarian to the Secret Ingredient Showdown. It turns out karma came back to bite her in the you-know-what because she ended up joining Chef Zakarian in the bottom two. Oh, the IRONy! 
The secret ingredient this week was Ponzu and Panko. They had to create a dessert with the ingredient. Yikes! 
Chef Zakarian's dessert was a Sweet and Sour Ponzu Blackberry Souffle. 
Chef Burrell made a Zucchini Involtino with Ponzu Ice Cream. 
Unfortunately Chef Burrell went from winner to loser in just one week and she was sent home. 
Watch all new episodes of The Next Iron Chef Sundays at 9/8c on Food Network.
(Image courtesy of Food Network)
Follow Danae @danaeyoung