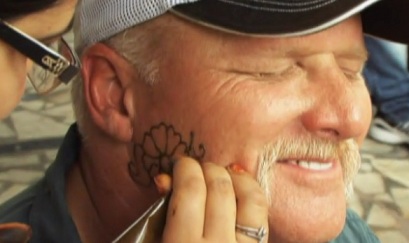 by Gina Scarpa
Rob and Dennis have now arrived in India on Around The World In 80 Ways and are starting in the city of Mumbai, a city with a population of 20 million people! On this leg, they'll have to travel 470 miles from Mumbai to Lake Pichola and start off by buying two tuk tuks for $1800. For those unfamiliar with the vehicle, it's a motorized rickshaw that is commonly seen throughout India. Seeing the one the other people drive, this could be the most dangerous way to travel yet! You would think they were trying to take each other out.
Their curiosity is peaked and they make a pit stop when they see a sugar cane press and stop for a drink... well, at least, Dennis does. Rob isn't brave enough to try it, worried that he may spend the rest of the day in the bathroom!
The tuk tuk gets them to the city of Udaipur, where they take a quick ride on a pair of majestic elephants. They quickly hop off, though, after concerns that they were too close to power lines.
After that, they hop on some monster trikes, which Dennis loved, but he wasn't too thrilled when he lost in a race to Rob. His punishment is to get a henna tattoo on his face. Well, at least now he has a beautiful flower on his face! Things get even worse for poor Dennis when an ox relieves himself on him during a ride on an ox cart.
Rob decides that they should hop off the cart a bit too early because now, they have to walk up half a mountain to Monsoon Palace. From there, they can see Lake Pichola, a man made body of water that's only 33 feet at its deepest. There's one more contest for these two competitors before they reach their destination - building a watercraft to race to the world famous Oberoi Hotel. The winner gets to spend the night in luxury there while the loser sleeps at a shady hostel.
Rob's raft leaves much to be desired so he jumps ship and lands on Dennis's.  In a desperate attempt to win, Dennis jumps into the lake and tries to swim to shore which is pretty disgusting since the lake is full of raw sewage.  While Rob lives it up in a suite and has a personal butler, Dennis shares a small, dirty room with many other people.  
Around The World In 80 Ways airs Sundays at 11/10c on History.
(Image courtesy of History)

Follow Gina @ginascarpa and "Like" her on Facebook!