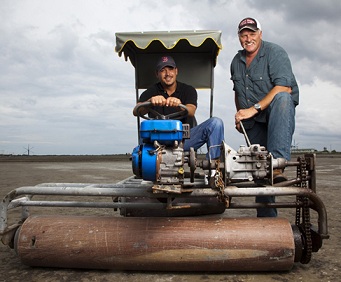 by Gina Scarpa
So far, Boston Rob and Dennis have used 24 different ways to travel on Around The World In 80 Ways. Their destination tonight is Lake Tanganyika in Zambia and their starting point is where we last left them - Victoria Falls. To get out of the gorge, they take a funicular, which is a cable car built to make it up and down very steep slopes.
At a local marketplace, they come across what looks like a wheelbarrow for off roading and, of course, race them through the market with Dennis emerging as the winner... thanks to a little cheating!
When they come across a steam train, the conductor lets them on board on the condition that they'll have to shovel coal in order to pay their way. Somehow, that ends up being Rob who does all the work (and getting burned a few times) while Dennis enjoys a relaxing meal and socializes with the passengers.
With a thousand miles to go, the boys decide it's probably time to rent a car to get to Lake Tanganykia but it's two days away. They were hoping to ride in style but end up in a smelly hearse, making the trip that much worse. Rob and Dennis make a pit stop to buy some chickens and a goat in order to use later as currency if needed. After the goats urinates all over the place, they give them to the first person they see and drive off into the sunset.
The pair can't help but stop off at Kagem Emerald Mines, where a small jewel will run you $20K. Instead of staring at future jewelry for their wives, they head out in the yard and jump in the trucks to play (which count as a method of transportation).
The hearse ride finally ends at an airport, where the guys hitch a ride on a cargo plane but they have to work for it by using a forklift and loading the plane first.  Every time Rob gets behind the wheel, things get a little scary - but not as scary and when they stopped a little earlier, drove a few steamrollers, and Dennis chased Rob around!
Upon arriving in town, they notice some children playing with wire carts which inspires them to build much bigger versions to race - of course.  Amazingly, they work and they're fast!  Despite Dennis' efforts to take him out, Rob ends up winning and wire cars become transportation method number 33.  The kids drive the giant wire carts away while Rob and Dennis finally arrive at Lake Tanganyika.  It seems like they're starting to enjoy each other's company more and that's saying a lot, considering they drove in a hearse together for 400 miles without killing each other!  Until next week...
Around The World In 80 Ways airs Sundays at 11/10c on History.
(Image courtesy of History)

Follow Gina @ginascarpa and "Like" her on Facebook!