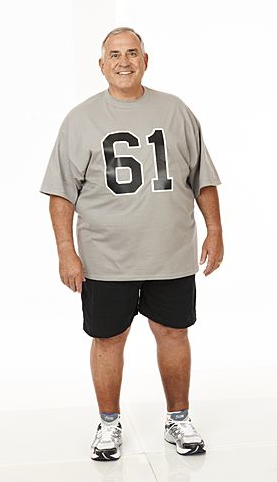 by David McAlpine

On this week's Biggest Loser, past contestants came back to root the teams on in their continuing journey towards healthier people. The Blue Team, already down to three, lost yet another weigh-in, leaving Becky and Mike on the chopping block. The third team member, Bonnie, was left to make the decision, and she sent 62 year-old Mike Danley packing. Mike talked to RealityWanted about his time on the ranch.

Q. David, RealityWanted: Whose idea was it for you to audition to be on The Biggest Loser?
A. Mike: I really never watched the show and did not know much about the format. My brother, Rick, auditioned last season and made it to the final selections before they changed it to teams. He received a call this season and was asked if he could get a team together. He called me and I really did it for him, otherwise I would have never considered auditioning myself.

Q. David, RealityWanted: Was being on the ranch at all like what you expected?
A. Mike: Being on the ranch was VERY intense. I knew it was going to be demanding, but being cut off from the world and family was the biggest challenge. Everyone involved was very professional and that made things much easier. I learned a great deal about proper diet and cooking, not to mention the exercise and health issues.

Q. David, RealityWanted: The Blue Team was consistently behind in every challenge and lost almost every weigh-in while you were there. Did you feel like it was expected, especially with so much Red vs. Black tension?
A. Mike: The Blue team was never a factor if the challenges involved activity that some of the team could not do well. There was competition with the other two teams because they realized our team was never going to be a factor. Bonnie was not able to do a lot due to her knee and that brought the weigh-in totals down. If we competed on an equal playing field, we did well. Mind over matter, brains over brawn!

Q. David, RealityWanted: What was the biggest lesson you learned on the ranch?
A. Mike: The biggest lesson I learned on the ranch was developing the determination, discipline, and focus needed to be successful in exercising and weight loss. Proper diet, exercise, and education is the key to winning within yourself.

Q. David, RealityWanted: How has your life changed since you've gotten home?
A. Mike: My life has changed 360 degrees since I have gotten home. Proper diet, healthy foods, along with daily exercise has made me a better man. More energy, focus, stamina, less stress, and a new attitude toward health. I do not take any of the medicines that I use to take before leaving for the ranch. Weight loss has dictated a better and healthier lifestyle for me. My wife is even losing weight by consuming better and more nutritious foods.

Q. David, RealityWanted: What are you doing to keep the weight off, and how are you training for
the marathon at the end of the season?
A. Mike: I workout 5 days a week and ride a bike on the 6th day. I do a variety of cardio and upper/lower body weights. I am working hard at strengthening my legs for the marathon. I walk a lot and complete a jog/walk circuit at the gym.
The Biggest Loser airs Tuesdays at 8/7c on NBC.
(Photo courtesy of NBC)
Reach David by e-mail or follow him on Twitter.