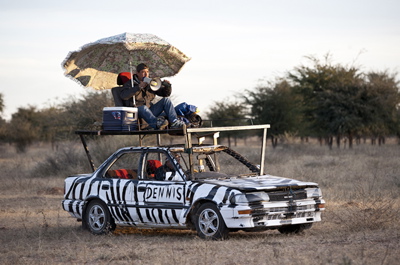 by Todd Betzold
Boston Rob and Monster Truck's Dennis Anderson have now used 17 of the 80 ways on Around The World In 80 Ways and are headed from Africa to Victoria Falls on tonight's episode.
They start out flying over "The Skeleton Coast" in some lift and thrust Chinese planes. They got some distance in and got to do some tricks in the air, but now on the ground they have 1,000 miles still to travel.
They find some fire bicycles to ride and golden helmets to wear and head on out. The bikes get them to the small town of Gobabis, but now they have to get through the Kalahari Desert.
To get through the desert, they will use a safari car, however they will have to build their own. Drama between the guys as they try to build it from scratch. Dennis works on the vehicle as Rob goes out and does some shopping for supplies.
Dennis finishes up the car and they head on out. Of course some drama, as they are driving the hood flies open. They get it tied down and get back on the road. They finally get off-road and Rob hops onto the roof to guide them.
Dennis gets sick of Rob and the blowhorn and starts driving erratically and drives through some big bushes. Rob jumps down and they get into a huge argument. Tension between them, but Rob brings out a bottle of bourbon to make nice and they agree to start fresh. They set up camp for the night.
Some African natives, the Kalahari Bushmen, awake them the next morning. They talk them into leading them on their way to Victoria Falls. In order to do that, the Bushmen demand they take off their shoes because it is a tradition to walk barefoot.
They are now in Maun and 200 miles away from their destination. They find some donkey carts for their next mode of transportation. Of course there are two of them, so they will be racing, with the loser doing all the work the rest of the day. Dennis rides in the donkey cart and Rob just rode on an actual donkey. Rob wins the race, yet again, and Dennis is not happy.
They have a river to get over, so they find a pontoon boat and head on out. It has to be pushed through the water, so Dennis must do the work after his loss.
To get through the rest of the river, they find a motorized canoe and make there way through the water...sharing the water with crocodiles and alligators. Lots of animals along the river, so that was cool to see.
Of course the motor quits as a crocodile approaches the boat. They make it more dramatic then it needs to be. They get the motor started and continue on their way. They go as far as they can by water and get out to walk to their destination.
Around The World In 80 Ways airs Sundays at 10/9c on History.
(Image courtesy of History)
Follow Todd @tbetzold