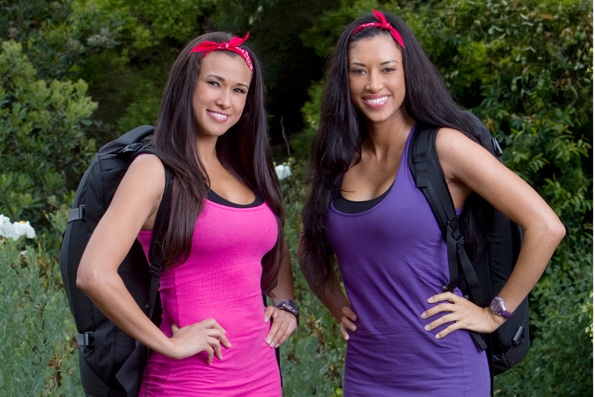 by David McAlpine

Last night on The Amazing Race, teams got a taste of Indonesian lifestyle as they raced around rural parts of the country. Vegas Showgirls Kaylani Paliotta and Lisa Tilley were spared elimination last week thanks to a keen eye for directions, but a trip up at the Roadblock put two in last place, sending them packing. Today, the pair talked to RealityWanted about their time on the race.

Q. David, RealityWanted: Whose idea was it to audition for the Amazing Race?
A. Kaylani: Rachel Reilly (from Big Brother 12 and 13) is one of my best friends, and she and I wanted to run the race together. However, we didn't know that she would be picked to go back on Big Brother, so I had to pick another partner. My first instinct was to ask Lisa and she was all for it.
A. Lisa: This is one of the only shows that I've watched and wanted to do. When Kaylani asked me, I was like, "Hell yeah!"

Q. David, RealityWanted: What went through your mind when someone brought you your passport at the beginning of the first leg at LAX?
A. Lisa: A lot of teams were stopping at the same gas station, so we thought another team might have found it and we'd get it at the airport. We were hoping that was the case the whole time, because there was nothing else that we could do. When we looked around and couldn't find it, though, that's when we started to freak out.
A. Kaylani: We went from heart dropping to maybe having a little hope to absolutely scrambling to all-out defeated to ecstatic. It was like feeling every single emotion all at once.

Q. David, RealityWanted: The end of last night's leg seemed very close. How much farther behind were you from the twins?
A. Kaylani: It must have been 10 minutes. As we were walking out to pay our cab, we saw the twins walking back in after they just paid their cab, so we knew it was really, really close.
A. Lisa: The trick about the Roadblock was finding your cab, not necessarily getting to it and paying for it. We found our cab right away!
A. Kaylani: What they didn't show was how long of a walk it was around the temple. The temple was really far away from the cabs, and the Pit Stop was past the temple, so we had to walk from the temple, all the way back to the cabs, then past the temple to the Pit Stop. On top of that, you could only walk, and walk in certain directions because that's the culture there. It was really difficult.

Q. David, RealityWanted: Kaylani, you talked a lot about not wanting to disappoint your daughter. What was her reaction to your elimination?
A. Kaylani: She would ask me to watch the episodes again because she was having so much fun watching it with me. When she saw me get eliminated, she was a mess, she was in tears, and I didn't understand why she was so upset. I didn't anticipate that she'd be sad that I wasn't going to be on the race anymore. Now she goes around telling me that she wants to be on The Amazing Race!

Q. David, RealityWanted: Did you have a strategy going into the race?
A. Kaylani: We prepared properly for the race, no doubt about it. We trained with my friend who trains pro athletes, but nothing prepares you for the heat of the moment, you know? Like with the umbrellas [at the beginning of the race], we just sat there opening and closing I don't know how many umbrellas and we were so frustrated.
A. Lisa: I took swim lessons to get ready, I was working out five times a week, but the reality is that you can't prepare for the unknown. Like you can't practice taking a cab in Taipei unless you just do it. There's an element of luck that no one can prepare you for.

Q. David, RealityWanted: Was there one place you really wanted to go on the race?
A. Kaylani: Italy! I'm part Italian.
A. Lisa: Seoul, Korea. I'm half Korean and I've never been there but my mom talks about it all the time, so I wish we could have gone. I was so excited when we flew through there on our way back, and I just wanted to stay!

The Amazing Race airs Sundays at 9/8c on CBS.

(Photo courtesy of CBS)

Reach David by e-mail or follow him on Twitter.