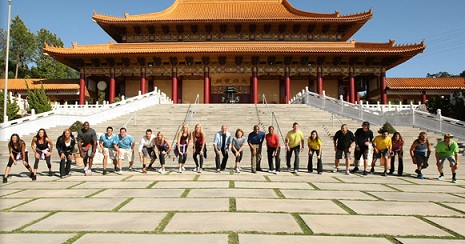 by Gina Scarpa
Eleven new teams are about to embark in a race around the world as the newest season of The Amazing Race gets underway. Among them are Olympians, winners of Survivor, a record setting sailor, an NFL player, grandparents, flight attendants, and the typical dating couple that probably has no idea what they're about to get into with each other.
With an Express Pass up for grabs, there's some added pressure to the first leg, which kicks off in Los Angeles. First things first - teams must solve a word puzzle to figure out where they're going next by finding letters printed on umbrellas. Andy and Tommy figure out "Tai" first (meaning they're headed to Taipei, Taiwan), followed by Amani and Marcus. The athletes aren't messin' around!
Kaylani and Lisa, the showgirls, finish list and incur a new penalty (the hazard) to complete later in the leg. To make matters worse, Kaylani drops her passport while stopping at a gas station for directions. Once they realize and go back for it, they can't find it which means they're done unless a miracle happens. And amazingly, it does. Some random guy found it, tweeted about it, and turned it in at the airport. What are the chances?
In Taipei, teams head to Ximending Commercial District to search for a billboard that reveals their next destination. The problem is that nobody has any idea what they're looking for but Amani and Marcus finally figure it out first and clue siblings Jennifer and Justin in. From here, they're headed to the Taipei Confucius Temple to face a Roadblock. One team member must memorize a Confucius proverb after listening to a recording over the phone and then recite it to a monk. Cindy gets it first, followed by Jennifer, Sandy, and Ethan.
Meanwhile, Bill and Cathi are aimless wandering around Taipei...
Next up is Dajia Riverside Park where teams join a dragon boat race. Awesome. Ernie and Cindy finish first, with Jeremy and Sandy and Marcus and Jennifer right on their heels. It's on to the Pit Stop from there, located at Martyr's Shrine, which is considered sacred ground in Taiwan.
Thanks to the hazard penalty, Kaylani and Lisa have to head to Core City Mall, head to the eleventh floor, and search for their next clue. Oh you thought they'd just be heading to the dragon boats but no. Kaylani has to jump head first and bungee jump inside the mall!
I thought the initial fighting between Marcus and Jennifer was annoying, but that was until I heard Marie constantly shout at Liz for being unable to get the proverb correct.  She does eventually get it after about 759 tries.
Ernie and Cindy arrive at the Pit Stop first and grab that all important Express Pass. Teams then finish in the following order: Jeremy and Sandy, Justin and Jennifer, Ethan and Jenna, Amani and Marcus, Laurence and Zac, Andy and Tommy, Ron and Bill, Kaylani and Lisa, Liz and Marie, and Bill and Cathi.  The married couple of 41 years did their best but arrived last.  Then, Phil blessed them with the good news that they're still racing.  However, that means that at the end of the next leg, for the first time in the show's history, two teams will be headed home.
The Amazing Race airs Sundays at 8/7c on CBS.
(Image courtesy of CBS)

Follow Gina @ginascarpa and "Like" her on Facebook!