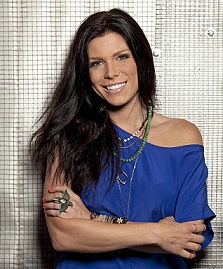 by Gina Scarpa
Coming into Big Brother this season, the veteran players had a target on their back so they joined forces to run the house... until Daniele decided she wanted to break off on her own. She made a bold move to align herself with Kalia and Porsche, and was able to help get Brendon out of the game (twice). This week, her decision to turn on her original alliance finally came back to haunt her, as Jeff backdoored her out of the game. Today, we caught up with the fearless player in an exclusive interview about playing Big Brother a second time.

Q. Gina, RealityWanted: So many people compare you to your dad when it comes to Big Brother. In a way, was it nice not to have him there so that you could play your own game this entire season?
A. Daniele: Absolutely. In season 8, I got overshadowed by his big personality and not necessarily by his gameplay. Going in there, I wanted to show everyone that I know how to play this game and that I had a strategy.

Q. Gina, RealityWanted: What prompted to you to turn on your alliance with the veterans so early in the game?
A. Daniele: I knew that Jeff was going to be really hard to get out later on in the game. I had a really tight alliance with Brendon and Rachel. They were the perfect alliance member because they were strong competitors and huge targets. I knew that with Dominic the four of us could run the house. Period. Also, Brendon and Jeff walked around the house just bullying everyone, including me. I didn't want any part of that. I am my own person and wanted to make my own moves and not base things on what Brendon and Jeff told me what to do.

Q. Gina, RealityWanted: Would you have kept any deals made with Rachel or Jeff and Jordan or were you only saying what you needed to at the time to further your game?
A. Daniele: I play this game on a week to week basis. If something better would have come up, absolutely. But when I made a deal, I tried my best to stick to the deal as best I could. If I didn't stick to the deal that I made with Jeff, then I wouldn't be out of the house right now.

Q. Gina, RealityWanted: Did you expect to be backdoored by Jeff? He has said in the past that that's not how he plays.
A. Daniele: Jeff walks around that house preaching integrity and honesty. The reason I didn't backdoor Jeff was because he accused me of attacking him on a personal level in week three in trying to back door him. I wanted to prove that it wasn't personal. The only reason he backdoored me was because he held a personal grudge and wanted to make a big move.

Q. Gina, RealityWanted: Your relationships with Kalia and Porsche seem genuine. Are they friendships that you will carry outside of the game?
A. Daniele: I never came into this house expecting A. to make friends and B. to make friends with girls. I cannot wait to have real friendships with these people outside of the house. Kalia and Porsche are both amazing women. Those friendships were real and they will last forever.

Q. Gina, RealityWanted: What is the jury house going to be like with you and Brendon in it?
A. Daniele: Oh man... AWKWARD.

Q. Gina, RealityWanted: What was the best part about getting to play the game a second time?
A. Daniele: I think the best part is knowing what I'm getting myself into and being able to appreciate the whole experience more.

Find out who becomes the next HOH on Big Brother, Sunday at 8/7c on CBS.
(Image courtesy of CBS)

Follow Gina @ginascarpa and "Like" her on Facebook!