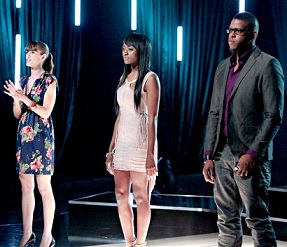 by Gina Scarpa
Sonyae, Scotty, and Jes have made it to the final three on Platinum Hit and the stakes couldn't be higher. One of them will finish things off with a publishing deal with Sony and The Writing Camp, a record deal with RCA/Jive, professional software worth $24,000, and a cash prize of $100,000.
They meet up with Kara and Jewel on the roof of their apartment building for a little champagne but more importantly, to find out about their last challenge. It's both extremely simple and difficult at the same time: write the hit of your life. That's it. No specific genre, no rules, just write the best damn song you can.
During their writing session, they're each visited by Evan "Kidd" Bogart and then head to the studio to work with Jonathan "JR" Rotem, who has worked with Rihanna, Sean Kingston, Britney Spears, and Leona Lewis to name a few.
Jes decies to write about her past relationship, Scotty writes a love song to himself, and Sonyae compares her love to someone to her love for her religion.
The night of the show, Evan and JR show up, along with Erika Nuri and David "DQ" Quinones of The Writing Camp. The former contestants and the families of the final three are there as well to offer support. Jewel, Kara, and Keith are also joined by guest judge Leona Lewis.
Jes is up first with "Come Alive" and it's definitely a song you could envision hearing on a Top 40 radio station by someone like Kathy Perry. Her chorus is one you can roll your windows down to and sing along with while driving down the highway.
Scotty's "Beautiful You" is by far his most personal and strongest song he's written to date on the show. It's one you might be able to envision Bruno Mars singing... not that Scotty couldn't write and sing his own material.
Last up is Sonyae and her song, "My Religion". She also gets personal and writes one heck of a set of lyrics. Tell me you couldn't hear Beyonce performing this. Sonyae definitely made the right choice sticking with the theme of religion.
The judges felt that it was by far Jes's strongest song to date but Keith wasn't totally in love with the "come alive" concept. Jewel and Kara wanted less of the word "beautiful" in Scotty's chorus but everyone agreed his melody was strong as always. The biggest issue was that Keith heard Bruno Mars's "Just The Way You Are" in Scotty's song - that's never good. Kara loved the depth of Sonyae's concept, loving someone like your own religion. However, she's told that melodically, she's not the strongest person in the competition.
After talking it over, the judges have reached their decision. The winner of Platinum Hit is... Sonyae!
What do you think? Did they make the right decision? Are you hoping for a second season of Platinum Hit? Comment and let us know!

(Image courtesy of Bravo)

Follow Gina @ginascarpa and "Like" her on Facebook!