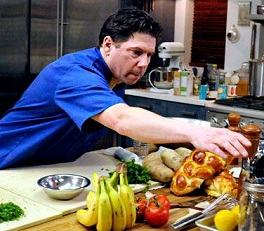 by Gina Scarpa
This week, Rocco threw a dinner party with a gastropub theme, which means taking traditional British ingredients and taking them to a whole new level. Executive chef Kevin Gaudreau impressed not only with his food, but his ambiance for Rocco's guests as well. Today, we talked to this week's winner in an exclusive interview about his experiences cooking on Rocco's Dinner Party.
Q. Gina, RealityWanted: When did you first start cooking?
A. Kevin: I started cooking right after I got out of the marine corp. I was 21, I needed a job, so I just started washing dishes. The salad guy cut his finger, they showed me how to make salad, and it snowballed from there. I just like the adrenaline and energy level that's inside the kitchen, the front of the house, and the back of the house.
Q. Gina, RealityWanted: What made you decide to try out for Rocco's Dinner Party?
A. Kevin: I do a lot of dinner parties in people's homes. I thought I'd give it a try. The production crew had called me back after we had submitted our material. It was cool. I guess everyone has a desire to be on tv.
Q. Gina, RealityWanted: Were you at all intimidated by Janet's cooking?
A. Kevin: Not really. She was just way over the top and she was very standoffish and whatever. I wasn't very impressed at all.
Q. Gina, RealityWanted: Rocco had a lot of concerns that your food would feel like it came off of an assembly line. How did you make things so personalized at the dinner party?
A. Kevin: You know, when Rocco had said that comment to me, I actually took it as a compliment. The most important thing as a chef is to be consistent and nail the dish every time. I've always trained my staff to be efficient, quick, and clean - almost like a robot. When he said that, I took it as a compliment. You have to be very consistent. I always kind of cook with the intent of trying to put a little bit of myself in every dish. I try to get my cooks to put that labor of love into it. I don't think I did anything differently than I would do at my restaurant.
Q. Gina, RealityWanted: Is there a particular dish that you served that you felt really sealed your win?
A. Kevin: Ironically, I thought that the bread pudding I made was killing and then nobody liked it. You don't know what to expect with these people. I wanted to do something a little different with the bread pudding. Instead of a lumpy mess, I tried to deconstruct it. The liver an onions, which they said was their favorite, was difficult to cook. I guess the liver and onions did it.
Q. Gina, RealityWanted: How does winning the $20,000 prize help you personally and professionally?
A. Kevin: Professionally, it's like another cherry on the sundae. On a personal level, who in America couldn't use $20,000? It was pretty nice treat! I have two little boys and I wanna do something nice with those guys.
Q. Gina, RealityWanted: What's next for you?
A. Kevin: I have the best job in the world right now! Maybe we'll do some more tv. We've had a couple calls already. Maybe we'll kind of pursue that. I have a busy, busy restaurant.

Rocco's Dinner Party airs Wednesdays at 10/9c on Bravo.
(Image courtesy of Bravo)

Follow Gina @ginascarpa and "Like" her on Facebook!