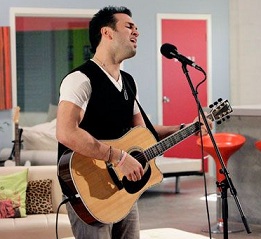 by Gina Scarpa
It's down to the final five on Platinum Hit and they head to meet up with Jewel and guest judge Doug Broad, of Spin magazine. They're given a card that says "kiss the flame" which is a song that Jewel wrote. In fact, she loves her own writing so much that she's making the contestants use that lyric in their hook challenge, which is all about empowerment.
With only five people left in the game, there are just two songs being performed this week. Scotty's hook about being gay came in second and Brian's hook about his mother's passing wins. Doug even says that it blew all of the other hooks away! Before everyone picks teams and gets to work, Jewel reveals that the winner of this challenge will get a feature in Spin, which obviously, is huge!
Brian picks Jes, Scotty chooses Sonyae, and then Brian passes Nick off to Scotty. Nick would've been helpful but there's no way he and Jes can work together well.
In Brian's studio, he's very focused on the music while Jes tries desperately to get him to collaborate with her on the lyrics. She finally gets his attention and it's better late than never. Over in Scotty's studio, the song just isn't coming together and doesn't sound like it's going to be strong at all.
Singer/songwriter Colbie Caillat sits in on the panel this week and Scotty's song, "Reign", is up first. The song is just not a hit that you would hear on the radio... maybe in the clubs... MAYBE. Brian's song, "The Last Candle", definitely seems like one that you could hear on someone's album and had a lot of emotion behind it.
However, it's a shock to everyone when Scotty's song ends up being the winning one this week. Nick is singled out for having the biggest contribution and will get the Spin magazine feature. Do you feel his ego getting bigger as we speak?
The judges lash out at Brian and Jes, saying the song was too light and sounded more like Hannah Montana.  Ouch.  When the lyrics come under fire, Jes immediately points fingers at Brian, saying that she was left on her own to write.  Brian fires back, saying she has yet to produce a real hit.  After talking things over, the judges decided that Brian missed this week and he's been eliminated from the competition.  
First Johnny... now Brian... what is going on in this competition?

Platinum Hit airs Fridays at 8/7c on Bravo.
(Image courtesy of Bravo)

Follow Gina @ginascarpa and "Like" her on Facebook!