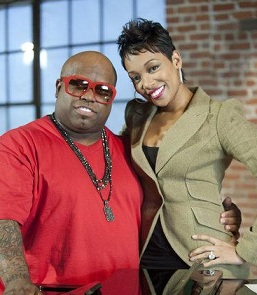 by Gina Scarpa
This season on The Voice, not only are the contestants being coached by some of the best people in the music industry but the coaches are bringing in some extra help as well. Cee Lo Green has had R&B singer Monica by his side since the battle rounds got underway and she has been both an excellent motivator and support system. Today, we spoke to her in an exclusive interview about her time on The Voice as well as her upcoming album.
Q. Gina, RealityWanted: What made you want to get involved with The Voice?
A. Monica: You know what? I didn't know anything about the show but Cee Lo and I have known each other since I was 12, 13 years old. We grew up around the same parts of Georgia. He was already a judge on the show and I'm very thankful for him for allowing me to be part of something so life changing for so many people. It's a jump start directly into their careers. I was discovered in a talent show so this is extremely special for me. This is one of the greatest opportunities and it really prepares you for what's ahead. I'm excited to see who wins The Voice. I love everybody on our team.
Q. Gina, RealityWanted: All the contestants are really talented and the show has a really positive vibe. Was that important to you, when deciding to do the show?
A. Monica: It was important to me but also, the thing that you don't see which is a major part is the staffing. The people that work there know a lot about music and they're people I've seen over the years doing awards shows.
Q. Gina, RealityWanted: What was it like to work with the contestants as they prepared for the battle rounds?
A. Monica: It was a blessing for me. Whenever you're put in the position to do what it is that you love, you should be giving back. This show makes me feel like I'm giving back. You see it edited down to a few minutes but we spend a lot of time with them, helping them. The most that we can do is push them to their own greatness.
Q. Gina, RealityWanted: The first battle round, between Vicci and Niki, seemed really tough to call. Were the decisions harder than you anticipated?
A. Monica: Absolutely! I never, ever remotely thought about being this attached to people. I see similar things in them that I see in myself. Niki sang in church. That's all I ever did. These are things that connected us. It's way rougher than you see on the show. Long after the battle rounds, Cee Lo and I would sit on the phone and discuss things. Both could be totally successful in the industry.
Q. Gina, RealityWanted: What do you look for during these battle rounds in a winner?
A. Monica: Showmanship, of course, but overall, the voice is the main thing. Being able to get the audience involved. Those are all things we're looking at but the main thing is the voice.
Q. Gina, RealityWanted: Will you continue to be involved on The Voice past the battle rounds?
A. Monica: They've been actually talking about that. I would say first and foremost that I don't know what the plan is but if they call me, without question, I'll be there - one for my friend Cee Lo but two for a show that is absolutely wonderful.
Q. Gina, RealityWanted: Do you have any favorites?
A. Monica: I'm impartial right now because I need to allow the rest of the weeks to play out and see how my team does in the battle rounds. Battle rounds are hard because a lot of them have become friends. I have to see how that plays out.
Q. Gina, RealityWanted: Is there anything exciting that you have coming up?
A. Monica: Well, I'm looking forward to my new album "New Life". It's coming later this year. I'm excited about that. My family and I are doing some really fun things this summer. My husband and I have been experiencing some really great things. We've only been married 6 months. Having someone to share everything with has been so much fun and so refreshing and so uplifting for me. Sometimes, being in the music industry for as long as I have can feel like the weight of the world. It's lifted so much off me to have someone to genuinely love. Definitely look for my album, though - "New Life"!

The Voice airs Tuesdays at 10/9c on NBC.
(Image courtesy of NBC)

Follow Monica @monicamylife and Gina @ginascarpa