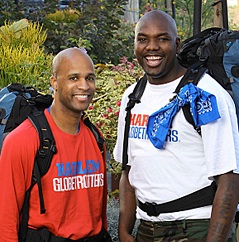 by Gina Scarpa
On last night's season finale of The Amazing Race, Flight Time and Big Easy got off to a shaky start when they missed a trolley ride that put them thirty minutes behind the others. Just as you'd expect with the Globetrotters, though, they made up the time and caught up to the other teams. They were ultimately unable to catch Jen and Kisha and arrived second at the finish line. Today, we spoke to the fan favorites in an exclusive interview about their experiences running The Amazing Race a second time.
Q. Gina, RealityWanted: What was your reaction when you got the call to run The Amazing Race a second time? Was there any scheduling conflicts with The Harlem Globetrotters?
A. Flight Time: It was funny. It was about this time last year that we were over in Europe doing a tour. We got back at the end of May and got the phone call to do it again. We had just talked about it and said, "It would be nice to run the race again." We were in as soon as they called us. As far as scheduling, if we have a chance to go on tv and represent our organization, then they're definitely okay with us going and doing that.
Q. Gina, RealityWanted: Obviously, you must've been happy to see Zev and Justin since you two were close during season 15. Were there other teams that you were happy to see as well?
A. Big Easy: Definitely happy to see Kisha and Jen. We wanted to meet them and run the race with them. All the teams were cool.
A. Flight Time: For myself, I've watched every season. Two of our all time favorite teams were the hippes and the cowboys. To have a chance to run with the cowboys was cool.
Q. Gina, RealityWanted: Speaking of the cowboys, a lot of teams worked together to get them out. Why do you think that was?
A. Big Easy: For us personally, we didn't try to get anybody out. We didn't see any team as a threat. The threat is reading a clue correctly, getting on the right flight, things like that. You're racing against yourself.
Q. Gina, RealityWanted: This race looked a lot harder than previous seasons. Did you feel that it was tougher the second time around?
A. Flight Time: At the beginning of the race, Phil goes on about how you're going on a trip around the world blah blah blah. This time he said it's gonna be harder. I remember thinking, "Oh yeah whatever." About the 5th leg in, with two superlegs, it was about that point that I realized it was not a joke.
Q. Gina, RealityWanted: Was there a moment on the race that you were genuinely worried you'd be eliminated?
A. Flight Time: For me, it was the tea episode. That's probably the hardest thing I ever did in my life. You can't see it on tv but I was there for about 4-5 hours. We went through the whole table and they kept refiling the cups!
Q. Gina, RealityWanted: In the finale, I was worried for the two of you when you missed that trolley ride. How did you end up making up the time to get back in the race?
A. Flight Time: Well the thing about the trolley was... it's so funny. The time we sat there waiting, we could've walked up there in five minutes. The clue told us we had to take the trolley and it was literally a two minute trolley ride. Once we got there, we found the route marker pretty quickly. We got to Zev and Justin and they were struggling, so we knew we had a chance to pass them.
Q. Gina, RealityWanted: What are your feelings on Jen and Kisha's win?
A. Big Easy: It was awesome! It was great! They deserve it. They're good people.
A. Fight Time: We knew that we were in second place. It was what it was. I don't feel too bad about getting beat by a couple chicks. They're athletes. They played division 1 college sports like us.
Q. Gina, RealityWanted: Does running the race a second time make the two of you think about doing more television?
A. Big Easy: We do quite a bit of tv but I think Flight Time would be great on Dancing With The Stars. He's a great dancer. I think I could be on Top Model! We're not shy.
A. Flight Time: Oh man...
Q. Gina, RealityWanted: Is there anything you want to say to your fans?
A. Big Easy:We just wanna thank everybody for supporting us. We respond to our eamils as quickly as we can. Thanks for your support.
Stay tuned to RealityWanted for more interviews with the final four teams from The Amazing Race: Unfinished Business!

(Image courtesy of CBS)

Follow Flight Time @datrotter4 and Gina @ginascarpa