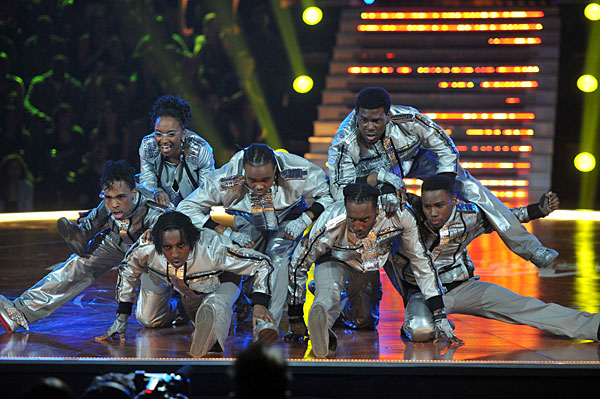 by Danae Young
This week on America's Best Dance Crew, the top eight crews battled it out in Black Eyed Peas week.
The Black Eyed Peas sent personal challenges to each crew.
ICONic Boyz started off this week and had to be sure to connect in their performance to the Black Eyed Peas' "Just Can't Get Enough." JC Chasez said that they completed their task multiple times but thought the end was a bit sloppy. D-Trix liked the routine and thinks they are cute. Lil Mama said that youth needs to unify with each other.
Next up was Phunk Phenomenon performing to "Don't Stop the Party" by the Black Eyed Peas. Their challenge this week was to have speed control in their routine. Lil Mama thinks this crew is ready. JC Chasez said they just put everybody on blast. D-Trix asked what can't they do. He said they are good at everything.
I aM mE had to transform into a machine in their performance to "Meet Me Halfway" by the Black Eyed Peas. D-Trix thought this challenge was perfect for them and said they executed it perfectly. Lil Mama thinks they are the most improved crew so far. JC Chasez wants them to use the stage a little bit differently.
Street Kingdom followed with a performance to "Imma Be" by the Black Eyed Peas. Their challenge was to create a futuristic battle with light sabers. Lil Mama has respect for the fact that they bring choreography to krumping, but she said they need to bring it harder. JC Chasez thought the beginning was slow. D-Trix loved the movements, but also said they need to figure out how to communicate to the people at home.
787 Crew had to do the impossible by finding out a way to teleport in their performance to "Boom Boom Pow" by the Black Eyed Peas. D-Trix thought their teleporting was brilliant and also said they used their stunts creatively. Lil Mama loved that they got into their challenge. JC Chasez said they are always fun to watch.
Instant Noodles had to create a video game in their dance to "My Humps" by the Black Eyed Peas. JC Chasez could tell they had a lot of fun with this challenge. D-Trix is now on their side. Lil Mama thought there were some exquisite parts but said they need to be a little more confident.
The bottom two were FootworKINGz and Request Dance Crew. They had to battle it out for the final spot in next week's episode.
FootworKINGz went first performing to "I Got a Feeling" by the Black Eyed Peas. They had to float like there is no gravity for their challenge. D-Trix said they came even harder this week and thought the texture behind their movement was great. JC Chasez enjoyed every moment they've been on the stage.
Request Dance Crew followed with a performance to "Dirty Bit" by the Black Eyed Peas where their challenge was to clone themselves. Lil Mama said it was electric, sharp and clean. JC Chasez liked that there were two different feelings in one performance.
After a tough battle, the judges sent home FootworKINGz.
Watch an all new episode of America's Best Dance Crew next Thursday at 10/9c on MTV.
 
(Image courtesy of MTV)
 
Follow Danae @danaeyoung