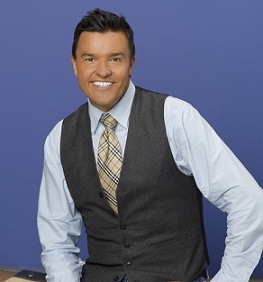 by Gina Scarpa
Michael Moloney first appeared on our television screens in 2003, on ABC's new reality show, Extreme Makeover: Home Edition. Seven years and eight seasons later, the interior designer is still going strong! He'll be appearing at Reality Rocks this weekend, along with several of his cast members. Today, we caught up with Michael to talk about the show and the exciting things fans can expect from the team at Extreme Makeover at the convention.
Q. Gina, RealityWanted: What made you turn from working in the fashion industry to working in home design?
A. Michael: It was a very organic, natural set of changes. I like all things beautiful, whether it's home or fashion. I was doing my thing, designing and decorating my own home. It just happened. I opened a small little store and then another one and it took off like crazy. I was traveling the country, buying antiques and furniture and started doing design jobs.
Q. Gina, RealityWanted: You've been on Extreme Makeover for so many years now. What do you enjoy most about your job?
A. Michael: It's the best job in the whole world! To be able to do something you love and have passion about it and make a difference in the world is pretty different. I think a lot of people go through their lives trying to find purpose and this found me. It's great. You know what's great too is that kids love our show and we get to teach kids that philanthropy can be cool. Kids are giving back now too, which is great!
Q. Gina, RealityWanted: How do you function on the design/shooting schedule when you're working on a house?
A. Michael: Very erratically! No, well, I've been doing it since day one... since the pilot. We work with a great team behind the scenes, which you don't see. We learn about the family and it's game on as soon as we start. Each decision you make is final. You just keep going and you knock out what you have to as you go and prioritize. You have to stay focused on the end result.
Q. Gina, RealityWanted: Many of the Extreme Makeover cast members are attending Reality Rocks, including Jillian Harris, Xzibit, Paul DiMeo, and Eduardo Xol. What will you guys be doing and talking about there?
A. Michael: We're going to set up a giant tent where we set up our art projects. We're putting that tent in the LA Convention Center. We're bringing volunteers in and doing projects that the fans can come and be a part of. We're going to build birdhouses. We're going to be painting murals that are going over to Africa. We're going to be hands on with the fans so they can get a vibe of working with us. We'll be there and be hanging out! People can ask us anything. This is reality. There's no veil of secrecy here. People can see who we really are. I think it's going to be really fun event. I'm excited to see everyone from all the other shows.
Q. Gina, RealityWanted: What other exciting things do you have going on?
A. Michael: We just finished season 8! I'm taking a little break here. I'm getting ready to do some international travel. I'm getting busy wrapping up things here. I'm working on a book. I'm excited about taking some time to enjoy the little bit of time off and do some travel. When we're on the road, the schedule is hectic and the time off can be very short in between. The social life kind of dwindles.
Q. Gina, RealityWanted: Do you see yourself staying with Extreme Makeover until it stops airing?
A. Michael: I see myself staying on Extreme Makeover as long as Extreme Makeover wants me!

Stay tuned for more interviews with stars appearing at Reality Rocks!
Don't forget that RealityWanted will have a booth at RealityRocks for both fans and members of the reality industry to check out our service! Mark Yawitz, co-founder of RealityWanted, will be in attendance and also serves on the honorary advisory board for the convention.
Extreme Makeover: Home Edition airs Sundays at 8/7c on ABC.
(Image courtesy of ABC)
Follow Michael @MichaelMoloney1 and Gina @ginascarpa