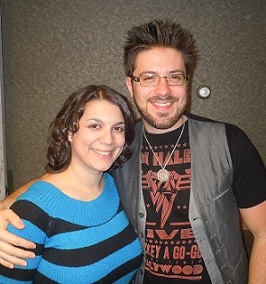 by Gina Scarpa
Life for Danny Gokey since American Idol has been good. He released an album, went on tour with country superstars Sugarland, received a nomination for an American Country Award, and made big strides with his charity, Sophia's Heart. He's currently touring solo, with a show in Maryland tonight and two upcoming shows in Oregon this May. At his show last night at Mohegan Sun Casino in Connecticut, we caught up with Danny in an exclusive interview as he opened up about his Idol experience, his fans, his charity work, and his rise to fame.
Q. Gina, RealityWanted: Did the Idols tour help prepare you for performing in big venues when you opened for Suglarnd?
A. Danny: Absolutely it did! Going on American Idol, I was wet behind the ears or whatever you wanna call it. I didn't know how to perform or be a performer. I only sang at church. Being on Idol and learning how to engage a crowd and getting to go on tour was a huge learning experience. By the time the Sugarland tour came around, I was ready. I used to be scared of performing. Now, I love getting on stage and just having a blast!
Q. Gina, RealityWanted: You were nominated for an ACA last year, which I thought was really cool. It must be nice to feel embraced by the country music industry!
A. Danny: It really is a great thing. I still think I have a ways to go with getting embraced more. Every artist has a journey and you just keep taking one step forward and making the right decisions. I was so honored, being the first year out and my season, being the first one to get a nomination for a major award. I hope it's a sign of things to come.
Q. Gina, RealityWanted: Do you try to get out and meet your fans at yours shows?
A. Danny: Yeah! I try, even at the bigger venues, to get out and meet the fans as much as I can. I think they're the reason why we become successful and why we're able to do what we do.
Q. Gina, RealityWanted: What can fans expect at a show like this? Do you stick to your album, try new material, do covers - what do you like to do?
A. Danny: We do our album and plus, we have covers. I love doing covers! I love doing my album! I just love doing hits so that's what I try to do.
Q. Gina, RealityWanted: What music are you listening to right now?
A. Danny: That's a tough one. I have a friend... I've been working out so when I work out and do some running, I listen to his album. No one would know him but I pop his CD in.
Q. Gina, RealityWanted: How are things going with your charity, Sophia's Heart?
A. Danny: Oh, amazing! We took in our first homeless family two weeks ago. We're getting ready to take in our second family. We got our music/arts program started up in Milwaukee and Nashville. It's been awesome. Someone gave me a facility, 77,000 square feet. It fulfills the vision that we have. It's how I always see myself as an artist - performing and getting involved, with my own hands, to help people.
Q. Gina, RealityWanted: Is there talk of you returning to Idol to perform?
A. Danny: Yeah, I went back last year to perform and the door has been opened. We just have to pick my next single. Right now, we have nothing on the radio. We're trying to figure out what song should be my next single. The offer has been put there. We just gotta find a song.
Q. Gina, RealityWanted: Do you have any big things coming up that we should know about?
A. Danny: Next month, I sit down with an eyewear company. We're gonna discuss a line of glasses for Danny Gokey. It's gonna be really great. Nothing set in stone yet. We still have to agree to the terms but we're sitting down next month.
Q. Gina, RealityWanted: Looking back on the last two years, from the time you first got in line for the American Idol audition to now, could you ever have imagined your life being where it is right now?
A. Danny: It's funny because I just got out of the shower and in the shower, I was thinking. I was thinking, "Man, I did not know my life would be here." Coming from my background, it's been a great ride. I'm so thankful. I wouldn't trade it for anything in the world. In my eyes, this is just the beginning. I see things getting bigger and better.
Q. Gina, RealityWanted: Anything you want to say to your fans who are out at your shows or buying your music and supporting you?
A. Danny: I love my fans. I have a lot of them coming tonight. They told me about it on Twitter. You can't trade that for anything. They're one of your most valuable assets and treasures that you have as an artist. You gotta treat them right and you always gotta thank them at every opportunity.
To learn more about Danny's charity, visit sophiasheart.org.

Follow Danny @dannygokey and Gina @ginascarpa
For more American Idol links, visit SirLinksALot.net