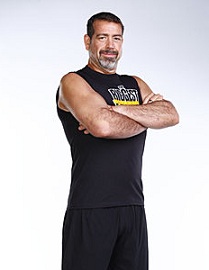 by Gina Scarpa
On the season finale of The Biggest Loser, two friends and alliance members battled it out for the win. Frado, the former US Marine, put up a good fight, dropping 162 pounds. Patrick was able to take the $250,000 grand prize after losing 181 pounds - a total weight loss percentage of 45.25%. Today, we caught up with Frado in an exclusive interview about his journey on and off the ranch.
Q. Gina, RealityWanted: When you weighed in on the first episode and saw that your starting weight was 367, what went through your mind?
A. Frado: I couldn't believe I had let myself get this out of control!
Q. Gina, RealityWanted: What was the biggest wake-up call when you arrived at the ranch?
A. Frado: My biggest wake-up call was having to deal with multiple injuries and realizing that, if I wanted to stay as long as I could, I would have to figure out another way to work around my injuries to get my calorie burns each day.
Q. Gina, RealityWanted: You worked with Brendan and Patrick throughout this game. What made them such good people to align yourself with?
A. Frado: Me, Patrick and Brendan are truly friends. Patrick reminded me of my younger years in that he loved his family so much. He was very much like me and needed this for his family. I love him like he's my own blood. Brendan is such a good soul. I know he can be rough around the edges but he would do anything for anyone in need and that you can't teach. He is a good man with a big heart and cares for others. I really value that in a person. In that aspect, he is much like me. I also love him like he is my own blood as I do Ada as well. They both needed my guidance on the ranch as well as kept me sane. Well, not Brendan - he kept me insane but I really do love the kid!
Q. Gina, RealityWanted: How was the transition from the ranch to your personal life as you prepared for the live finale?
A. Frado: The first couple of weeks were real tough. I think everyone goes through the same ups and downs when you first get home. You have to work and figure out your new "normal".
Q. Gina, RealityWanted: What are your thoughts on Patrick's win?
A. Frado: I couldn't be happier if I had won myself! Same goes if Brendan or Ada had won. I love these three kids and I call them kids because they are not much older than my oldest daughter, Nicole.
Q. Gina, RealityWanted: Whose weight loss surprised you the most?
A. Frado: No one really. Everyone worked hard on and off the ranch. You need to realize that the heaviest contestant will always lose the most given more time if you go by a three month time frame, that is a fair assessment but given more time, the bigger person should have more weight loss period.
Q. Gina, RealityWanted: What did working with Bob and Jillian mean to you?
A. Frado: It was an honor to be trained by the world class trainers that Bob and Jillian are. If you can't do it with them, I wouldn't know where to go.
Q. Gina, RealityWanted: Will you stay in touch with them?
A. Frado: I would love to but with their schedules, I'm sure that that would be difficult for them.
Q. Gina, RealityWanted: Going forward, how do you plan on keeping the weight off and maintaining it?
A. Frado: I plan on making goals for me to attain every couple of months. This spring, I will be competing in a body building contest/show with my trainer and body builder, Michael from The Body Shop in Stirling, NJ. I have begun training already. This summer, I will be making 5 summit climbs, with a dear friend, Arti Salisbury, a retired U.S. Army Soldier. The last summit is in Washington state at Mt. Rainier. These are the things that will keep me focused in my training.
Q. Gina, RealityWanted: What's the biggest thing you learned about yourself from being on The Biggest Loser?
A. Frado: The Biggest thing I learned about myself is that I still have my discipline, drive, and motivatio as I did when I was a young US Marine. These things are in all of us! I learned how to regain my body and health not only for me but my family as well. I also learned that I can help motivate others into a healthy way of life and that is a powerful thing. This experience has been lifesaving and priceless to me and my family.

(Image courtesy of NBC)
Follow Gina @ginascarpa
For more Biggest Loser links, visit SirLinksALot.net