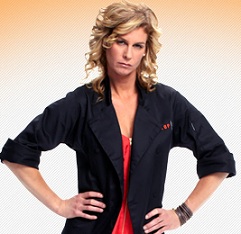 by Michael J. Lamp
In one of the most dramatic eliminations in Top Chef history, Jen Carroll's stay on Top Chef: All-Stars was cut much shorter than most expected. She came, she cooked and she yelled - a lot. Jen spoke with RealityWanted and other reporters about the decision to return for All-Stars and exactly what went down at Judges' Table.
Q. Michael, RealityWanted: You were at the center of one of the most tense judging moments ever on Top Chef. What was going through your mind when the judges were telling your group that you were on the losing end?
A. Jen: It was disappointing and upsetting to me. I didn't want to be on the losing team, and I didn't think our team was [on the losing end].
Q. Michael, RealityWanted: Did you plan to defend yourself so aggressively or was it a spur of the moment thing?
A. Jen: I was very passionate, and I was very emotional. It was coming to the point where the judges were coming at us, and I was really defending myself and my team as a whole. I think my emotions got the best of me, but I went down fighting and went down defending myself and my dish. Maybe it wasn't the best way to go out, but I still think that I [made] a good dish. Of course, there can be a lot of tweaks I can do to make it a better dish, and something that Gail and Tom want to eat again. I did my best that day.
Q. Did the judges have higher expectations for you than the other chefs?
A. Jen: I can't answer that for the judges. I hope that they would've thought I would go a lot further. The challenges are designed to put us in uncomfortable situations. We have good days and bad days. I think the judges expected me to go a little bit further than I did.
Q. Do you think you were being insubordinate by defending your dish?
A. Jen: They were definitely surprised, especially from how they saw me competing in the past. I was always very gracious and accepting. I wasn't this time around. I think they were more surprised at that. When I made one comment [about the plates] to the judges, I immediately apologized. I don't mean to disrespect the judges, and it definitely came across that I was doing that. At the end of the day, I thought I did an ok dish. Looking back and having some retrospect, it's not the absolute best dish. I still think it was
good. (Laughs)
Q. Were there any major differences between All-Stars and Las Vegas?
A. Jen: This season, we [had] all played the game already. The chefs all had an idea of how they'd be this time around. It's definitely different. Even thought I didn't make it too far in, there's' a different feel than the first time. The first time was more of a nervous pressure. This time, it was, "I need to do well."
Q. Do you think Jamie should've been eliminated?
A. Jen: Jamie and I were partners for the Elimination Challenge. We took, maybe, two seconds to conceptualizes the dish. I wish we had taken longer. Jamie cut herself, and the medic told her she needed stitches. I was concerned, and I'm not gonna say, "No, Jamie, you have to stay and cook with me."
Q. Eric Ripert said he wished you'd kept your cool during the judging. Have you spoken with him?
A. Jen: Of course I've spoken with him. Eric doesn't train you to be [that way]. I had a bad day. It's a shame it was caught on camera. I had the T-Rex inside of me that day. T-Rex on a lot of caffeine! I appreciate that [Eric] is on my side and a major supporter of my culinary career.
Q. Are you rooting for anyone?
A. Jen: Of course, I'm rooting for Mike Isabella. We became very close. I wish that they all do well, and I hope none of them have a crazy, aggressive Judges' Table like me.
Q. Talk about your decision to come back and do All-Stars.
A. Jen: It was definitely a tough decision to make. I was heart-broken the first time around, and I really wanted to win. To make the decision to go back, of course you want to do better and to win, but at any point you can go home. The competition is hard, and you're up against unexpected things. I talked to my family and my bosses here at work about going back. Everybody said it could be really good, but you gotta do well.
Top Chef: All Stars airs Wednesdays at 10/9c on Bravo.
(Image courtesy of Bravo)
Follow Michael @mjlamp
For more Top Chef links, visit SirLinksALot.net