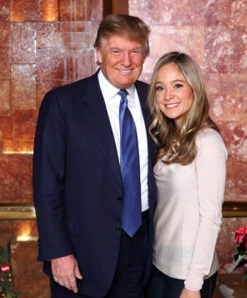 by Gina Scarpa and David McAlpine
Last night on The Apprentice, it came down to Clint and Brandy in a battle of leadership at Trump National Golf Course. Despite some cheap prizes, Brandy's stellar management of the golf tournament as well and her performance throughout the show earned her this year's title of The Apprentice. RealityWanted talked to Brandy this morning about winning and what her next steps into the career world are.
Q. Gina, RealityWanted: Looking back on the beginning, who did you think was your biggest threat?
A. Brandy: I gotta be honest. In the beginning, one of the really strong... there were a couple of strong females. Nicole, who was let go the first week and Stephanie. I knew she would be hard as nails. She means business. I didn't interact with the men too much. I had my eye on my fellow females.
Q. Gina, RealityWanted: What was your favorite part of the competition?
A. Brandy: My favorite part to be honest was that it was like make believe for adults. I never had access to the types of projects and people that I was able to work with on The Apprentice. It's not every day that a corporate attorney gets to be part of a fashion show and a golf tournament and things like that!
Q. Gina, RealityWanted: How did you feel going into the final challenge against Clint?
A. Brandy: I was feeling confident in the job that my team had done. I thought that we certainly made mistakes. On the whole, I think we put on a fantastic tournament. Clint is a phenomenal competitor. Clint and I have become great friends throughout this process. You never know in the board room! A lot of people were rooting for me but I know people were supporting him, too!
Q. Gina, RealityWanted: Did you feel that Kathy Griffin did a good job at the tournament?
A. Brandy: Kathy Griffin... I've always been a fan of hers. I like her a lot more having worked with her. I can't say that I've been in contact with a bunch of contact with celebrities but she's the most low maintenance celebrity you could ask to work with. She's funny, kind, down to earth. We talked to her on the phone and she said, "Put me wherever you want." She was so laid back and had great insights.
Q. Gina, RealityWanted: Were you satisfied with your team's performance?
A. Brandy: I'm so satisfied. I wouldn't be The Apprentice if not for my teammates. They're all phenomenal. I have to credit all the people that went to bat for me. I was really grateful to hear them step up and say such nice things about me. These are the people I've been working with and they could speak to my performance. I was flattered and very happy.
Q. Gina, RealityWanted: What's the best thing you learned from being on The Apprentice?
A. Brandy: Right now, I can say that the last holiday season was a very hard holiday for me. I had been laid off from the job I was at for several years. It was a dark time and here we are, one year later. My life has completely changed. I would just say for people out there having a hard time like I was not too long ago, keep your head up. 2011 is gonna be a great year!
Q. Gina, RealityWanted: What's going on for you right now?
A. Brandy: It's still setting in! I went to bed late last night and got up to speak to everyone today. It's not very glamorous! [laughs] I'll go out and enjoy the streets of New York today.
Q. Gina, RealityWanted: What do you see yourself doing down the road, in a few years?
A. Brandy: I'm still letting it all sink in. The apprenticeship is for one year and hopefully, he'll keep me around.

(Image courtesy of NBC)

Follow Gina @ginascarpa and David @davidmcalpine
For more Apprentice links, visit SirLinksALot.net