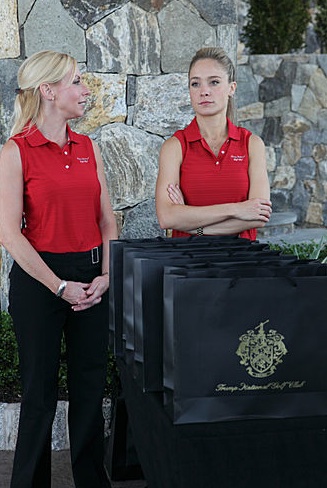 by David McAlpine

Tonight on The Apprentice, it was everything on the line for finalists Brandy and Clint. Brandy was already down to a team of three with Liza golfing with Mr. Trump during the tournament. With a photographer missing in action and a poor choice of prizes, Brandy had her work cut out for her. Meanwhile, Clint had a series of misspellings and a tight schedule to work though.

Clint jumps on the problem right away and gets everything squared away with the printer. He negotiates a complete return and reprint within his budget, magically repairing the mistake he made.

Brandy's photographer arrives as does Kathy Griffin, so Stephanie briefs Kathy on how the event will work and they're all set up to go. That is, at least, until Mr. Trump decides to come through a side entrance, completely missing Brandy and Kathy Griffin. Kathy Griffin misses her cue to introduce the tournament, so Trump does so himself, leaving her nothing to do. Brandy's team delegates her to take pictures with the teams at the signature hole.

To make matters worse, Trump is grumpy he's only playing with three people. Brandy is still panicking about the prizes, thinking that they'll be of no use to the VIP clients.

When the dinner starts, Clint clicks into leader mode, although it's a little clear Clint did that before hand. While Trump was at the golf tournament, Clint showed his face at some of Brandy's events, which Brandy thought was desperate.

The next hurdle was feeding people: all 500 of them in less than an hour's time so as not to get rid of time from Liza Minnelli. While Clint introduces himself, he uses his southern drawl and "y'all" a lot, which causes Steuart to express concern.

The reminiscent flashback reels roll during Liza Minnelli and we're all left wondering who will win: Clint or Brandy?

In the boardroom, everyone picks their team's leader to win except Poppy, who ends up selecting Brandy. Apparently Trump loved Brandy's parting gifts, but didn't like the chaep golf clubs. Trump disliked how mean Clint can be, as well as his ability to seem not southern.

After everyone leaves but the final two, Trumps asks them one, killer question: what would you do if you worked for me? Brandy has a brilliant answer when she suggests working for former generations af Trump.

At the final (not live, surprisingly) Clint is eliminated, leaving Brandy as the only person standing and the winner of The Apprentice.

(Photo courtesy of NBC)

Follow David: twitter.com/davidmcalpine.

For more The Apprentice links, visit SirLinksALot.net.