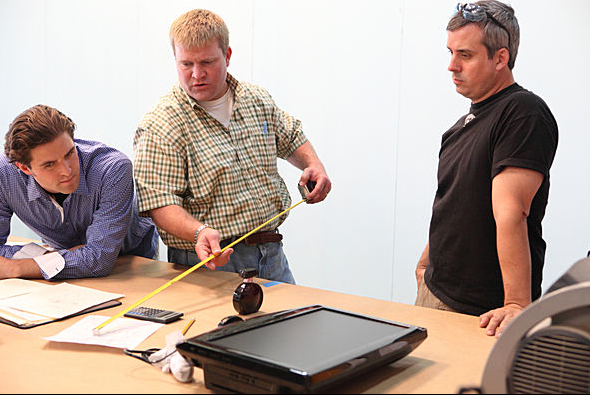 by David McAlpine

This week on The Apprentice, it's setting up to be fireworks on both teams. Brandy says it's hard to work with the guys, especially with two close friends like Clint and Steuart. Meanwhile, Liza and Stephanie are at each other's throats already and the task hasn't even begun.

Clint gets his long-awaited meeting with the head of Starwood Hotels and gets a $5,000 gift card to Pier 1 Imports for him to use. Clint is incredibly grateful for the gift, because he says he had to sell everything to keep his family afloat.

This week's task involves making a commercial that incorporates two brands (AT&T and Flo TV) into one: AT&T Mobile TV. Per usual, they'll be judged on representation of the brand, creativity and how they got the message across.

Stephanie and Liza are at odds from the beginning but, since Stephanie is Project Manager, Stephanie gets her way with the story, which is multiple stories coming together about how people escape their lives through mobile TV. On top of that, she shoves Liza off onto very basic, secretarial tasks, leaving everything to fall on herself.

Liza introduces herself to the photographers when they get there and Stephanie snaps, yelling at Liza because she's not the boss. When things start to go downhill with the shoot because of the location and the lack of props, Stephanie gets even more frustrated, taking everything out on Liza. Even the photographer gets frustrated with Stephanie losing her patience with everyone.

After they go with what they have, Liza and Stephanie start going through the footage and, yet again, disagree on what to toss and what to keep. Liza is very displeased with the final product and Stephanie accuses her of giving up, letting it be known that she'll be taking her on in the boardroom.

Over on Octane, Steuart decides to be the Project Manager, but he gives Brandy the task of presenting and Clint all the creative tasks. They come with the theme of families on the go, where one family is the "odd man out," so they decide to get the mobile TV product.

Clint ends up acting in the commercial as well as directing and keeping everything creative in line. This leaves Brandy feeling left out and Ivanka strongly questioning Steuart's leadership abilities.

In the editing room, Steuart keeps second guessing himself, worried that they could have done much better in the creative process. However, the commercial comes off great, despite Brandy tripping over her lines for yet another presentation.

Brandy falls under fire for not performing up to par on the task while Stephanie takes credit for all things creative on Fortitude's commercial. It was close, but Octane edged out Fortitude, giving Steuart the win and pitting Stephanie against Liza in the boardroom.

Stephanie lays into Liza about being difficult, while Liza says she's always under attack from Stephanie. Liza says for the umpteenth time that her ideas are never taken into account (I still wonder where these ideas are), while Stephanie says she's useless. It turns into one big argument which Ivanka points out is poor communication and possibly the reason why they lost.

The two keep going at it, but eventually Trump puts an end to it and brings it back to one point: the creative concept was not as good as it could have been. He says that falls on Stephanie, so he fires her. After the show, Stephanie is now a spokeswoman for the Trump brand.

The Apprentice airs on NBC Thursdays at 10/9c.

(Photo courtesy of NBC)

Follow David: twitter.com/davidmcalpine

For more Apprentice links, visit SirLinksALot.net.