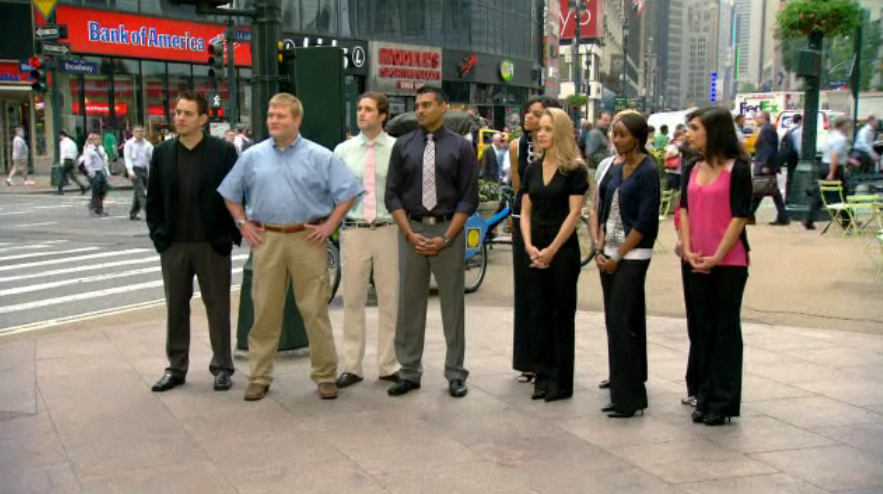 by David McAlpine

Last night on The Apprentice, the teams were charged with the task of running their own pedicab company, a popular street business in New York City.

Anand and Kelly stepped up to lead their respective teams, after which they had to pick their locations. The women looked like they had a significant lead with their idea of sex appeal, but they were already off to a handicap because Mahsa and Kelly fail the test, leaving the women with less drivers.

The men decide to do their route around Trump Towers, and they begin early to maximize their money-making efforts. They decide to turn their tourist business into a full on act, creating Roman-themed chariots. The women opt for a different strategy, putting their "Babes on Bikes" route around Wall Street, a significantly less touristy area.

Brandy and Poppy are picking up several customers, making them stand out as the primary earners for the women. However, the women are having issues getting customers, something Kelly was worried about when they picked Wall Street. However, Kelly doesn't say anything, so the women stay on location, trying to pick up more tourists.

Around the lunch hour, the traffic starts to pick up and the women get more clients. Poppy in particular is biking back and forth, earning a good chunk of the women's change for the day. Stephanie and Mahsa get mad at Kelly for giving Poppy all the credit, while Kelly says they think too much about them when it's about the team.

Back on Octane, the pre-sales seem to be working as their rides keep pouring in. David reveals once again that he's awkward to work with on a team, even speaking in a weird accent to try and draw in customers. David also starts telling random people about his great-grandfather getting killed by a mule, which seems to put off some potential clients.

In the boardroom, the decision is clear: the men picked a much better location and used their theme to their advantage, pulling in triple the profit of the women. Before they leave, Clint begs Trump to fire David, which he doesn't do because he thinks all the men won fair and square.

Back to Fortitude, where all fingers again point to Liza as the reason why they lost, even though she wasn't really featured in the episode. Kelly gives all the credit to Brandy (again, who was silent most of the episode) and attacks Stephanie for her poor choice of location.

Mahsa jumps in and goes after Liza for not selling anything, but Trump argues that it was about the location, not the lack of sales skills for this task. Mahsa argues that they were targeting men as the customer, so they went where the men would be.

Kelly brings Liza and Stephanie back into the boardroom, where it becomes Kelly vs. Stephanie. Stephanie says she's from Canada and Chicago and she has no clue about New York, she just picked Wall Street because she knew men would be there. Kelly falls under fire for being in charge of the task and not stepping up, which leads to Trump firing her. Now, Kelly is hoping to land a job helping woen and children.

The Apprentice airs Thursdays at 10/9c on NBC.

(Photo courtesy of NBC)

Follow David: twitter.com/davidmcalpine

For more Apprentice links, visit SirLinksALot.net.