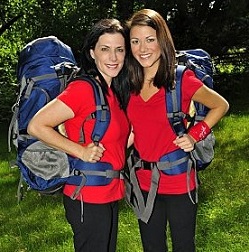 by Gina Scarpa
On last night's episode of The Amazing Race, the teams traveled from England to Ghana, where they encountered a busy marketplace for their Road Block and chose between installing an antenna or rolling coffins through the streets for their Detour. Though Andie and Jenna ran a good leg, they ran into bad luck every time they jumped into a cab. They were the last time to check in and today, we spoke to Andie in an exclusive interview about her experiences on the race with her daughter.
Q. Gina, RealityWanted: How did you and Jenna decide to try out for The Amazing Race together?
A. Andie: What happened was that Jenna and I had been writing letters to each other for about a year and a half. She posted on her Twitter that she was watching The Amazing Race and wanted to do it. I saw it and got excited because I wanted to do it, too. The main thing for me was that we had been planning for a while to meet each other and I thought this would be fun to do together and to be away from the distractions of our everyday life.
Q. Gina, RealityWanted: Was it an advantage or disadvantage that the two of you hadn't spent a lot of time together before the race?
A. Andie: In our case, it was both an advantage and a disadvantage. The good thing was that we knew that it was our time together and we weren't taking it for granted. It was really important to us to respect each other and listen to each other and make each other proud. That helped us but I guess, a disadvantage would be that we didn't know what the other one was good at. We talked about it before the race and tried to coordinate but still, you don't really know. In that first leg, in England, we weren't communicating as well. The second leg, we got into our groove and got into how to be together.
Q. Gina, RealityWanted: What went wrong on that second leg?
A. Andie: We had two bad experiences with cabs. We had a map that we had gotten off the internet in London, which told us how to get to the memorial where we were supposed to go. When we got into the cab, we showed the driver where to go. You would think that he would know but he took us way, way in a roundabout way. Jenna was able to go into the Roadblock and she was awesome. We were doing great but we got into the worst cab that ever existed. It was so sad because he told us he knew where the market was. He took us to the opposite side of the city and by the time we figured out this guy was clueless, it was too late. It really was out of our control.
Q. Gina, RealityWanted: It must have been tough for the two of you to come in last, not because of anything you did wrong, but because of things that you couldn't control.
A. Andie: Exactly. We ran our hearts out. We did really well together. It wasn't enough because of something totally out of our control. We were having so much fun. It's so much harder than it looks when you're watching it on tv but it's so exciting and so much fun.
Q. Gina, RealityWanted: What's the biggest thing you learned about Jenna while running The Amazing Race?
A. Andie: Jenna just amazes me at how mature she is. She has such a wisdom. If I had had her wisdom at her age... she just has such a mature outlook on things. There was a lot of speculation. Should a birth parent and child do this? Probably not. But she was raised really, really well. She has total security in her family but she has an openness and compassion where she wanted to get to know me. I'm just blown away by her.
Q. Gina, RealityWanted: What is your favorite memory from the race?
A. Andie: I think our favorite moment was our night in the castle at the Pit Stop. It was absolutely gorgeous. The furnishings were really, really old and you felt like you were in a real castle, not just like at Disneyland. There was a full moon and it was overlooking this lake. It was like Swan Lake! It felt like we were in a fairytale. We slept so well and woke up ready for another adventure.
Q. Gina, RealityWanted: Is there anyone that the two of you are rooting for?
A. Andie: It's funny. We were talking about that and we really would be happy for any of the teams. They were all really good people. Each one is really unique but has really neat things about them. Everybody got along really well this season and likes each other. We're happy for whoever wins.

The Amazing Race airs Sundays at 9/8c on CBS.

(Image courtesy of CBS)
Follow Gina at twitter.com/ginascarpa

For more Amazing Race links, visit SirLinksALot.net