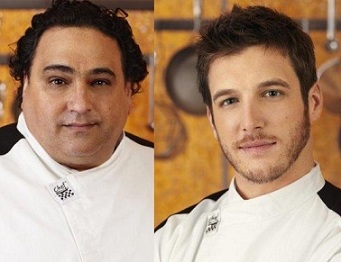 by Gina Scarpa
Last night, on Hell's Kitchen, Chef Ramsay sent home two members of the blue team, Raj and Louis. Both performed poorly in the kitchen but Raj was sent home during an elimination when it should have been one of the losing members of the red team walking out the door. Today, the two chefs spoke to RealityWanted in an exclusive interview and gave their thoughts on Chef Ramsay, their teammates, and their performances in Hell's Kitchen
Q. Gina, RealityWanted: What was your main reason for wanting to try out for Hell's Kitchen?
A. Raj: My main reason was because I wanted to push myself and test myself. I've eaten in Chef Ramsay's restaurants. I wanted to work with him and learn some things.
A. Louis: The opportunity to work with arguably the best working chef in the world and to push myself. I'm a firm believer in personal development and continuing to push forward in life.
Q. Gina, RealityWanted: Raj, there are people who think that you were only in it for the tv aspect, including Curtis, who talked to us last week. What is your response to that?
A. Raj: I'm in it for everything. I'm in it for the learning. I'm in for the love of cooking. Of course! The tv... yeah, of course. Who isn't it for the tv? If they say they're not, they're lying.
Q. Gina, RealityWanted: Louis, how did you feel about your blue team this season? Who stood out to you for their leadership or cooking abilities?
A. Louis: There's a lot of talent to choose from. With very little exception, the people I got to work with, the guys, are an incredible group of guys. You may see a few things in the future from us. We have some things in the works. Barring a few exceptions, we had a good professional rapport and I have nothing but love for those guys.
Q. Gina, RealityWanted: How intimidating is it to cook for Chef Ramsay?
A. Louis: It is a little bit intimidating but for anyone that's been kicking around kitchens for a while, you get used to chefs and standards. When he's screaming at you, it's not personal. It may get personal in content but that's not the intent.
Q. Gina, RealityWanted: Raj, what was the problem with the fish last night?
A. Raj: I'm a chef in L.A. and Ramsay is in London. In LA you cook the salmon medium rare. If you don't, you'll get torn up.
Q. Gina, RealityWanted: Louis, what do you wish you could've done differently last night? How difficult is it to succeed during dinner service?
A. Louis: I would've cooked the food a little longer. It's very difficult to succeed during dinner service. You're cooking blind. You're dropped into a situation and you're not given the instructions you would be given at another restaurant. It's very much flying blind. Unless you're a savant and pick it up that fast or have experience cooking that way, it's an environment that has a low threshold for error.
Q. Gina, RealityWanted: Louis, where are you working now?
A. Louis: I'm continuing my work with the YMCA, working in the community. I recently moved up to Santa Cruz and working in a new $17 million facility. I'm working on a program to work with kids to teach them healthy eating. I'm very lucky and fortunate to work with an organization that develops character and I'm very passionate about it.
Q. Gina, RealityWanted: Raj, are there people on the show that you'll talk to and stay in touch with?
A. Raj: Oh yeah, I already partied with them!
Hell's Kitchen airs Wednesdays at 8/7c on Fox.
(Image courtesy of Fox)

Follow Gina at twitter.com/ginascarpa
For more Hell's Kitchen links, visit SirLinksALot.net