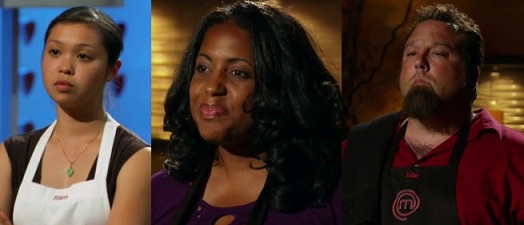 by Gina Scarpa
Last night, on MasterChef, Slim faced an embarrassing moment when Joe Bastianich threw her dish away without even tasting it. She was quickly eliminated from the competition soon after. From there, the contestants were split into two teams to cook for a wedding and Lee's blue team (along with Jake, Tracy, and Mike) lost to the red team (comprised of Sharone, David, Sheetal, and Whitney). The losing team were given 90 minutes to create a pasta dish from scratch and the judges decided on a double elimination, sending Tracy and a surprised Jake packing. Today, we spoke to all three eliminated chefs in an exclusive interview about their experiences on MasterChef.
Q. Gina, RealityWanted: What was your reason for wanting to go on MasterChef, as opposed to other reality cooking competitions?
A. Slim: My reason for going on MasterChef was that it would be a great learning experience. I was absolutely excited to do this because Gordon Ramsay was going to be on it. The partner of Mario Battali, who I love and respect and would marry, Joe Bastianich, and Graham Elliott were the other judges. I figured I could learn a lot from them.
A. Tracy: For me, it was all about the cooking and the opportunity and stepping outside of my medical box. I wanted to pursue something I was really passionate about. I remember seeing the flyer for the casting call in Atlanta and it said: "Are you an amateur cook who is passionate about food and wants to change your life?" and I was like, "Check, check, check!"
A. Jake: The main attraction, to me, was to just grow and learn and put another notch in my belt as far as climbing that ladder to becoming an amazing chef. The word "chef" in itself is thrown around a little too freely. That's something you have to work for. To be able to work with such amazing talent and be in the same room as this talent, it's crazy! It's hard to put into words.
Q. Gina, RealityWanted: Which contestant stood out to you as your biggest competition?
A. Slim: I would have to say Whitney. She and I are pretty much the same age. We both put our education on hold to go out to L.A. to do this. We're both from the south. The judges loved her from the get go. I had to compete with this person who had the same background as me. It was pretty difficult! Outside the kitchen, we had a lot of fun with each other. She's a great friend.
A. Tracy: I think at different times, different folks were intimidating. Hats off to Jake, who will go down as the meat specialist! He's so passionate, he's a multi faceted cook, and he just knows so much about food. There's also Lee, who was kind of like a quiet riot. He didn't say a whole lot but he could put some brilliant stuff on a plate. And Mike created wonderful techniques and was very knowledgeable.
A. Jake: Tracy, you're awesome and I love you. That was very sweet. For me, I take a little different approach. I put the blinders on and focused on the plate in front of me in the challenge. In the big picture, I was my biggest challenge. I wanted to execute a plate that I was happy with and would be happy to serve. I have respect for everyone on the show.
Q. Gina, RealityWanted: Of the three of you, who had the worst elimination?
A. Slim: I had the worst elimination, I would have to say! Hands down, throughout the entire competition, I had the worst elimination. The worst thing you can do to a cook is throw away their food without even tasting it. That was definitely a slap in the face. Joe gave everyone a job offer and I picked him up on it. That's supposedly in the works.
Q. Gina, RealityWanted: Tracy, you seemed to accept your elimination. Did you make peace with the way things went down?
A. Tracy: I did. It took a little while, I have to be honest. I had to go through some kind of 12 step program, post MasterChef. I think the reason was that ultimately, I was the author of my own destiny. The best analogy I can give is I took my hands off the wheel for a moment. Hindsight is always 20/20. In that last challenge, I had no experience with pasta making but I think there could've been some ways that I could've kept it more simple and been more successful. I think that overall, I was pretty consistent, cupcake not included, with my dishes. I definitely established myself as a person who could cook. Beyond that, I think my portrayal on the show was very accurate in terms of being someone who puts their heart on the plate. That was enough for me.
Q. Gina, RealityWanted: Jake, a lot of people expected you to win this show and thought you went home too early. What do you think about your elimination?
A. Jake: Well, I feel like I went out a lot earlier than I expected, too! I'm on board with that for sure. It is what it is. You're in the middle of an intense competition and you do the best you can in any situation. Hopefully, that translates onto the plate and some days, the competition is a little stiffer than others. I had the opportunity to present some amazing dishes and I stand behind all of them. It was a wonderful opportunity to be in that situation and see what you're capable of. I was in it to win it for sure, like everyone else. I was pissed off but it was my turn to go home and I accept that. We laid it down and it wasn't enough. I'm okay with it and it's all good. I'm focusing on all the amazing, positive things that have happened from being on the show. I'm just enjoying the ride!

MasterChef airs Wednesdays at 8/7c on Fox.
(Image courtesy of Fox)

Follow Gina at twitter.com/ginascarpa
For more MasterChef links, visit SirLinksALot.net