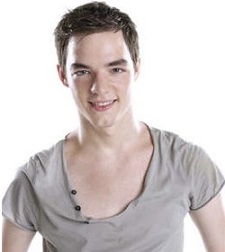 by Gina Scarpa
Billy Bell entered season 6 of So You Think You Can Dance as a frontrunner but had to leave the Top 20 before the first performance due to illness.  He returned in season 7 and sailed through to the Top 11 but struggled to connect with viewers, finding himself in the bottom three for the last few weeks.  On last night's live elimination episode, he and breaker Jose Ruiz were eliminated from the competition.  Today, Billy spoke to RealityWanted and reporters in a press conference call about the injuries this season, the critiques he received from the judges, and what's coming up in his career.
Q. Gina, RealityWanted: How you feel that the injuries have affected things this season?
A. Billy: Honestly, I feel like a lot of the injuries were a fluke that happened. When you put all of your heart into something and you're giving it your all, you forget about what you can't do. I think a lot of it was just by chance.

Q. Gina, RealityWanted: What do you think that it was about you that America wasn't connecting with?
A. Billy: I'm not really sure if there was a specific thing that America wasn't connecting with. I got used to being in the bottom and had fun doing my solos.


Q. Do you feel that you created a good launching pad for your future?
A. Billy: That's almost why we go on the show. Only one person wins but realistically, we all win. We get that exposure.

Q. What was it like working with [choreographer] Stacey Tookey?
A. Billy: Stacey is amazing! I've known her for a while now and she's one of the most inspirational choreographers that I've ever worked with.

Q. What critique from the judges was the most helpful?
A. Billy: That's hard. I think the critiques about connecting with my partner was the most helpful.

Q. What was your favorite dance?
A. Billy: My favorite is the one I didn't get to perform. I was really upset. The favorite dance that I did get to perform was the homeless dance with Ade, choreographed by Stacey Tookey.

Q. When Nigel made the comment about being androgynous style, that seemed to rile up some people on Twitter. What was your take on it?
A. Billy: That's kind of a hot topic right now! I actually don't mind it. I think that dance is kind of androgynous. It adds a little bit of uniqueness and that makes me me. I'm not upset at all. If anything, I take it as a compliment.

Q. Have you had offers yet from anybody yet?
A. Billy: I think it's still a little bit early. I just got voted off 24 hours ago. I have had an offer with Company Slak in Montreal. I'm definitely considering that. It's a complicated time because of tour. It's really busy but I'm trying to work it all out. I want to do more company work.
Be sure to tune in when the Top 4 take the stage on So You Think You Can Dance, Wednesday at 8/7c on Fox.
(Image courtesy of Fox)

Follow Gina at twitter.com/ginascarpa
For more SYTYCD links, visit SirLinksALot.net