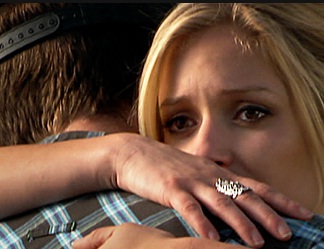 by Michelle Spigner
"All Good Things..."
It's the end of an era, the end of Kristin, Lo, Audrina, Stephanie and Heidi's adventures. So for the last time...
On last night's episode of The Hills, Kristin makes the tough decision to leave Hollywood in search of herself, but she finds her decision to move away is more difficult that she thought.
Audrina, Stephanie, Lo and Kristin hang out together and reflect on their lives. They are all in a good place and are ready to start a new phase in their lives. Audrina is moving from Hollywood to a fabulous beach home. She is ready to focus on herself and enjoy being single. Lo is excited to start the next phase of her relationship with Scott. Stephanie is very happy for her new relationship with her beau, Josh. Kristin, hasn't spoken to Brody until she put herself out there and told him she wanted to be in a relationship with him. She's finally ready to move on.
Lo and Stephanie go shopping and talk about her new fling, Josh. She is really excited to have finally found someone who is sweet and respectful and gets her. Lo still hasn't told Scott that her decision about moving in with him. Stephanie tells her that she should really break her rule about moving in with a guy without first being engaged.
Kristin is still recovering from Brody's rejection. She feels that all of her friends' lives are changing in a very positive way and she kind of feels left behind. She needs a big change, a change so drastic it would be scary. She is thinking about moving to Europe so she can go find out what she wants to do with her life.
Stephanie goes to watch Josh race motocross for the first time. And Josh asks the question we all want to know, where do they stand? Stephanie tells him that she isn't seeing anyone else and neither is Josh. So they both decide to be exclusive, and Stephanie now has the sweet, understanding boyfriend she always wanted.
Kristin comes to visit Brody at his apartment. She tells him that she is going to be moving to Europe for the summer or maybe for longer than that. Brody thinks that she is going away because of what happened between them, but Krisitn promises that isn't the case. Kristin invites him to her going away party and Brody turns down the invite because he doesn't want to celebrate her leaving.
Kristin has her going away party that night at the Roosevelt Hotel and the whole gang is there to toast to her and wish her a good trip. Brody's friends are there, but to Kristin's disappointment Brody doesn't show. But just as Kristin looses all faith in seeing Brody before she leaves, he walks into the club. Kristin is hesitant to speak to him at first, but she really wants closure and to leave all their drama in the past.
Brody really wanted to see Kristin off. He doesn't think it is the right move for her to go away and he apologizes for hurting her. Brody didn't understand that she had such strong feelings for him. He thought they were both just enjoying the single life and hooking up was just a friends with benefits thing. Brody tells her how much he will miss her. He looks Kristin in the eye and asks her not to go, that he'll miss her too much. At that they both tear up, and months of misunderstandings and hurt feelings just melt away.
Lo makes the decision to move in with Scott. As they are packing he tells her that he is in the relationship for the long run and that he is would happily marry her.
Kristin prepares to leave Hollywood and takes one more look around her Hollywood home before heading out. Just as her driver comes to take her to the airport, Brody surprises her by coming to say goodbye once again. Brody is upset because he thinks Kristin is leaving because he is seeing someone else. That is all Kristin every wanted to hear from him, but she still thinks that it is very important for her to go and find herself. She can't believe that this is really goodbye. They embrace each other for the last time and then Kristin gets into the car.
As the acoustic version of Natasha Bedingfield's "Unwritten" plays the camera zooms out from Brody's face to go into a montage of the girls and their adventures over the years. As the song comes to an end we see one more shot of Brody. But something strange happens, the background of the Hollywood hills behind him rolls away to reveal that he is standing on a set. Kristin pops out of the car and runs and leaps into Brody's arm as a director yells, "Cut!"
So.... What does this mean? She didn't really leave? Are Brody and Kristin together? Is The Hills actually fake? Oh... well, I still love those girls and I'm so sad to see it all come to an end.
(Image courtesy of MTV)
For more The Hills Links visit Sirlinksalot.net