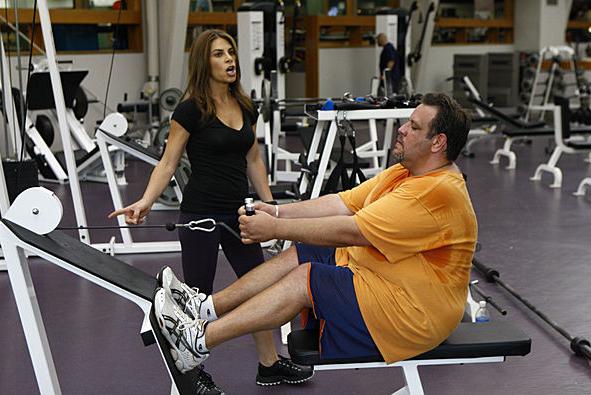 by David McAlpine
This week on Losing It with Jillian, Jillian is headed to Detroit, Michigan to help the Franklin family, made up of Todd and Amy (husband and wife) and their daughters, Lilly and Chloe. Lilly and Chloe are perfectly fine, healthy girls, but their parents are not. Todd is 300 pounds and has trouble staying motivated to lose weight while Amy is almost 50% fat.
Amy is even further in trouble with her health, since she smokes. According to Amy, she started smoking after she had gastric bypass, started a business, then lost the business and gained all the weight back.  Lilly and Chloe keep telling her to stop smoking, but it doesn't seem to make a difference. Dr. Van Herle tells Amy that she needs to stop smoking, because it could be affecting her children's asthma. She also tells Todd he's at a high risk for stroke, heart attack or death.
Jillian sneaks up on the family while they think they're out filming a casting video. As soon as they come back and go into their house, Jillian is sitting there, which Todd enjoys but Amy does not. Amy immediately breaks down and tries to shut the cameras out before they can even hit the gym. Jillian is worried that Amy is going to be resistant, but she gets Todd and her to the gym, anyway, so she can "figure them out." Todd is excited and he wants routine change. Then, all of a sudden, he starts to quit. You can tell he's getting on Jillian's nerves, but she's not letting him get to her. He starts saying that he wants to throw up, and Jillian responds, "I hope you throw up, at least you'd be working that hard."
It's clear that Todd is picking a fight with Jillian and she's not having any of it. She refuses to yell at him, only give him no attention. He sits down and quits for good, so Jillian turns all her attention to Amy, who freaks out, but then feels empowered. Amy starts rocking out in the gym, while Todd sits there, semi pathetically, watching Amy succeed. It's a great start for Amy, but a step back for Todd. Before they leave, Todd tries to tell Jillian he didn't quit (even though he specifically said that phrase twice), which makes Jillian realize he's an instigator. He likes picking fights and she's not standing for it.
Back to the gym again, where Jillian has to goal to clear the way for Todd to be successful and to push Amy to do things for herself. However, Todd quits again, puzzling Jillian, but not phasing her. She continues to push Amy, who's more than willing to keep going. While they're alone, Amy says that Todd didn't like the happy, healthy Amy and it's better this way because she doesn't like constantly pushing him. To investigate further, Jillian goes to the bowling alley, Todd's hangout spot. There, she sees that he's the screw-up of his friends, and that's how he gets his attention. It's a pattern she's determined to break.
Amy and Jillian have a chance to go shopping and get one-on-one time while Todd gets them lunch. Jillian directs him to Subway and I really, really didn't want to believe my ears, but I knew it was coming. Todd walks in and yes, it's official, the product placements are back. This time, it's even more blatant, because he asks about breakfast, even though he's looking for lunch, and says it's "good to know" that they serve breakfast. Seriously, it was a moment that made me smack my forehead...it was blatant and rough, to say the least. While out with Amy, Jillian discovers that she loved yoga and the yoga community, so Jillian is determined to get her back into it.
In the culminating emotional scene, Jillian takes Amy and Todd boxing so they can air everything out and really hash out what's troubling the two of them. Todd puts it out there that he wants Amy to stop smoking, so she retaliates with a big left hook: either Todd changes or she's leaving, because she's done dealing with it. The ultimatums don't stop there, though, as Jillian invites Todd's friends over to make one last plea for him to change. You can see it in his eyes that he wants to change, but it's still questionable whether or not he will, because he's put up so much resistance at this point.
Before Jillian leaves, Amy gets to go to her yoga class and Todd makes an attempt to reach out to his friends to help him workout. The fate of the Franklin family hangs in the balance as Jillian walks out the door, and we're all hoping for a happy ending.
The requisite six weeks go by and Jillian comes back to Todd and Amy's friends cheering outside of a tent, where Todd and Amy are waiting to reveal their new selves. Both of them look fantastic and you can notice that they're happier people, especially Amy. Todd is down 33 pounds and no longer uses his sleep apnea machine, while Amy has lost 19 pounds and no longer smokes, both of them vastly improving their lives in the long run.
Tune in next Tuesday at 8/7c to see the final family of the summer on the season finale of Losing It with Jillian--only on NBC!
(Photo courtesy of NBC)
Follow David on Twitter: twitter.com/davidmcalpine
For more Losing It with Jillian links, visit SirLinksALot.net.