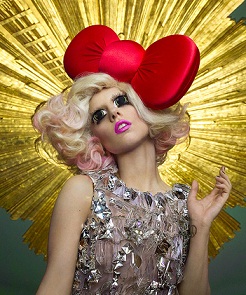 by Kristal Bailey

This week on Double Exposure, Lady Gaga is doing a shoot that will be sure to interest all her little monsters. But first, Indrani and GK are working on de-stressing after the many fights between the crew last week.

This week they are traveling to London to do an entire issue of American Photo with Naiomi Campbell. Also in London, they're shooting Hello Kitty for it's 35th anniversary with Lady Gaga - a fashion/pop culture icon.

Apparently, Indrani has a swami based in London. She'll be able to relax and talk to him about her problems and drama. Markus claims London will be a drama-free experience, but he's invited Zonna along so I doubt it'll go as smoothly as he hopes. Plus, now that Indrani and GK are dating, she is pulling him in to her bad habits and making him run late. If he's ill prepared for the client, the photo shoot can't function well and the client will not have confidence in his choices.

Markus is making an effort to keep the arguments to a minimum - he doesn't fight Indrani's set change ideas, he fashioned a device to keep the cords away from the keyboard. They're both trying to keep it together in front of Naiomi Campbell, because she has such a short fuse and a low tolerance to annoyances.

The photos are all going to be inspired by the idea of a "radioactive liquid cat." Indrani tells Naiomi about this idea, and she just flat out rejects it and decides to do her own look. She's a supermodel, so they listen. They closed off an entire section of this lot for their shoot and everyone else just had to deal with it. Such is the power of Naiomi.

Despite Indrani being too afraid to speak up, they got 5 great shots that all conveyed that liquidity and power that Indrani and GK had discussed. Maybe it was because Indrani was quiet that it went so smoothly - there's no way to fight when one party only speaks in whispers.

Now with the Naiomi shoot complete, they had to shift focus to the highlight of their trip to London: shooting Lady Gaga. The found a Masonic Temple to shoot her in, to show the level of devotion and worship that both Lady Gaga and Hello Kitty receive.

"It makes a lot of sense to shoot Lady Gaga in a temple because she's the high priestess of Pop." - Markus

While they're at the temple, GK travelled to Paris to find some killer fashion for Lady Gaga. Unfortunately, it's Bastille Day and everything is closed. Bastille Day is the French equivalent to America's July 4th. Thankfully, they brought enough fashion that they should manage, but it would have been nice to have more options for such a fashion icon.

In addition to all the crazy outfits, GK attached Hello Kitty products to an entire outfit so she's completely wearing Hello Kitty. The first outfit is "Hello Kitty Pirate Whore" where Lady Gaga has a huge sparkly eye piece, a gold bra-type top, and she used the giant Hello Kitty necklace as a codpiece. "It's caberet meets the future."

The photo shoot was very carefully planned out, but Lady Gaga was much more interactive and participated in the shoot more than other models. She had ideas and wanted to see the photos while the shoot was in progress so she could adapt and change on the fly. She also spent a lot of time picking out her outfits and kept changing her mind. While this produced great photos, it slowed down the entire process.

Finally, she comes out in a black top with a rocker jacket, black panties and fishnets and then high heels with Hello Kitty tins on the shoes. After some initial framing problems, they got some great shots that highlight the shoes and the crazy eye makeup. The next outfit is a 50 lb dress that's covered in rocks and crystal, with a huge red Hello Kitty bow on her head. Then, the bickering starts. They can't decide on the shots they want, they can't set things up fast enough, and then Indrani finally just touches Markus's camera to take a shot. That's when things implode. Lady Gaga had to take a break, to touch up her make up, but really to get a moment. But after their breather, they get amazing shots yet again.

The last shot featured an outfit that GK and his assistant attached actual Hello Kitty plush toys to garments, similar to her now famous Kermit the Frog dress. "This is queen Gaga reigning the world from her Pop temple." That was my favorite shoot of theirs yet!

In the end, Indrani visits her Swami. She met him when she was 18 and he really helped her through a lot. She's seeing him now to try to figure out how to be strong, but not a bitch, and to deal with the financial hardships and partnership difficulties.

Tune in next week when the Double Exposure crew travels to India, airing Wednesdays on Bravo at 11pm/10pm c.

Follow Kristal on twitter at twitter.com/kristal_bailey


For more links on Double Exposure, visit SirLinksALot.net