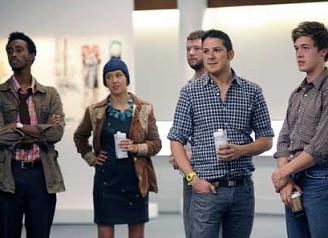 by Mike Bandy
The fourth episode of Work of Art: The Next Great Artist began last night at Phillips de Pury, Simon de Pury's gallery. The artists are there for a special exhibition by Andre Serrano. There are many controversial photographs, including one of Siamese twins, and one of a crucifix inside a jar of urine.
Andres Serrano enters the gallery to meet the artists, and China Chow explains that Serrano is known for art that shocks the viewer. The challenge for the artists this week is to create a shocking piece of art. They get $100 to shop for art supplies, and they have until midnight that night and one hour the next day to create something shocking.
John says that the last time he was shocked was when a friend said he pleasured himself with auto-fellatio, and wishes he had immunity. Nao says she's going to do some type of performance, but has no idea what she's going to make.
In the workroom, Erik decided that his piece would focus on children molested by priests. Jaclyn, who was influenced by last week's critique of her work, decided to photograph herself naked. Mark wanted to make a series of three photos of the things he fears the most happening to people he loves. Ryan decides to do a photograph of himself, post coital, post bondage, with a cord in his mouth.
Nicole's idea was to make casts of her thumb and fill them with blood, hair, and fingernails, while Miles opted for a line drawing of Mickey Mouse's head filled with anuses, penises, and nipples, inspired by him getting his first erection while watching a Disney movie.
John is working on a painting of a man performing auto-fellatio.
Peregrine was working on a painting of twins who have STD's, and turning them into fashion models. Ryan felt that Jaclyn was contradictory and actually enjoys all the male attention. Erik put Ryan and Jaclyn in bed together and photographed their feet to represent the feet of the priest and the child.
Nao said that she didn't know where her work would settle, and was making a housing for her character; a primitive space that could have been designed by an insect or animal.
Simon de Pury comes to the workroom to comment on the pieces. He thought that Jaclyn's naked photos were great to look at, but he wasn't not totally sure that he saw the provocative side of it. Jaclyn said that if the judges don't like her piece, she'd question the direction she's taking as an artist. Jamie Lynn, who was working on a provocative version of the Last Supper, didn't get great criticism from Simon, who thought it was a pleasant illustration, but not shocking at all. We find out that John's auto-fellatio painting is about someone he knows, and that the practice has made him antisocial. Simon didn't have much to say about it.
Nao isn't sure where her piece is going, and Simon didn't really know either, but was expectant that she would surprise the judges. Simon announces that the artists have a little less than three hours left to work, and that the winner of the challenge would receive immunity. He then drops the bomb that TWO artists would be eliminated the following night.
Meanwhile, John was very nervous about his project, Abdi was very happy with the molds he made for the sculptures of black men as bombs which he was planning, and Erik doesn't want to let Serrano down.
The next day, people ran around like crazy in the workroom to finish their pieces. Miles said that he likes his piece but isn't stimulated by it, and decides to up the ante. He said that, since the piece was about the first erection he's ever had, the best way to finish it is to mark it is with his last erection. He disappears into the bathroom to do the deed.
It's time for the gallery show! The pieces:
Miles: "First and Last"; A drawing of Mickey Mouse's head filled with genitalia, topped off with his own ejaculate.
Erik - "Sex Education"; a photograph depicting a priest and a child in bed together.
Mark - "In an Instant"; a three-panel painting of a torn dress, torn underwear, and a popped balloon. It represented sexual abuse.
Nicole - "Vial"; jarks with casts of her thumb, filled with blood, hair, and fingernails.
Jamie Lynn - "Church in the South"; a modern version of The Last Supper, all the dinner guests have weapons.
Nao - "Barely Standing"; a performance piece in which she's dressed in odd clothing and sitting in a shack. Had brown paint that she
was playing with which made everyone feel that it was scatological.
John - "The Recluse"; a painting of a man performing auto-fellatio, complete with directions on how to do it.
Abdi - "I.E.D. (Improvised Explosive Device)"; three sculptures of heads with wicks on the top, representing young black men as bombs about to go off.
Jaclyn- "Triple Self-Portrait in Bathroom"; Photographs of herself naked, which she allowed gallery viewers to write on.
Ryan - "My Tranny Porno Fantasy"; a photo of Ryan wrapped in an extension cord, wearing a pink wig, and covered in ejaculate.
Peregrine - "Herpes for Chanel, Syphilis for Prada"; drawings of fashion models with STD's.
Called down to the gallery were Jaclyn, John, Erik, Abdi, Nao, and Jamie.
The judges thought that Jamie's piece wasn't shocking, and said it felt like a white trash wedding; Serrano says she doesn't have a strong character. They thought Erik's piece was more like an album cover, and Serrano didn't get the inferences. John's piece had the word "fellatio" misspelled, and Serrano compared his piece to graffiti. The judges liked that everyone got to write on Jaclyn's piece; she said that Simon gave her the idea to do that, which sparked anger in Erik, because he had given her the idea in the workroom.
The judges said that Nao didn't know what she was doing, and they didn't either, but Serrano found it disturbing in a good way. Abdi's piece had magnetic power, and a quiet shock; the judges enjoyed that it depicted the threat of imminent violence.
While the judges deliberated, Erik and Jaclyn got into a fight about her piece; Erik said she should have given him credit because she asked him for advice, and she said that he just shouts things out.
The top two for the challenge were Jaclyn & Abdi, with Abdi coming out as the winner. That left Nao, Erik, John & Jamie Lynn in the bottom four, and Nao and John were ultimately eliminated. Nao said failure was okay, and John said that he was trying to please Serrano and not himself.

Work of Art airs Wednesdays at 10/9c on Bravo.
(Image courtesy of Bravo)

For more Work of Art links, visit SirLinksALot.net