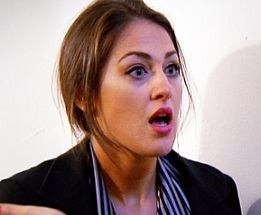 by Gina Scarpa
Last night, on The City, Joe pulled Erin into his office to discuss Elle's upcoming segment on The Martha Stewart Show. They happen to be short one look, so he asks her to check out up and coming designer Prabral Gurung for another outfit. Over at People's Rev, Kelly asks Roxy to help style Canadian pop singer LIGHTS for a concert and tells her to make sure that she's wearing something from the Whitney Eve line. If Roxy doesn't get Whitney Eve on her, Kelly promises that it would be a very, very, very, very, very, very, very, VERY bad thing. She really said it that many times. I think she gets it.
Whitney tries to jump in and help pick out looks for LIGHTS but Roxy swears that she's got it under control.
Over at Prabral's showroom, Olivia spots an outfit that is absolutely perfect for The Martha Stewart Show. He is clearly thrilled to have one of his looks on national television and also decides to pull a dress for Olivia to wear the next time she's on the red carpet, which is soon. She and Joe head to a gala later on, where she's praised for pulling the look for the show.
Roxy meets with LIGHTS, who isn't into most of Whitney's looks. She's a bit of an edgy rocker and, love Whit to death, but her clothes don't exactly fit that style. The singer is much more drawn to other designers but Roxy finally gets her in a black, tuxedo-style jacket and she agrees to wear it later. Success!
At the show, Kelly, Roxy, and Whitney are all in attendance and are overly excited for LIGHTS to come on stage... until she does and throws Whitney's jacket on the floor in the first 10 seconds. Oh no she didn't! The look of horror on everyone's face is obvious and Whitney immediately blames Roxy, running backstage to confront her. Roxy explains that she can't force people to wear clothes. She can only pull the look and ask her to wear it. Fair enough. What can you do? Walk on stage with her and refuse to let her take off the jacket, no matter how hot it gets?
The Martha Stewart Show goes off without a hitch. Martha loves the looks and Robbie is calm, cool, and collected in front of the camera. The following day, Joe praises Erin and Olivia for doing an outstanding job but Erin can't accept the compliment because Olivia is in the mix. Joe tells her just to take it and not complain anymore. Well, he's finally putting hit foot down but where was that side when Olivia was screwing up left and right?
Whitney is still furious with Roxy and the conversation between them turns from, "Maybe we shouldn't work together anymore," to "Maybe we shouldn't live together anymore." Whitney's overreacting a bit, don't you think? Roxy is her biggest supporter, though she's not perfect. It seems like Whit is ready to kick her to the curb.
The City airs Tuesdays at 10:30/9:30c on MTV.
(Image courtesy of MTV)

Follow Gina at twitter.com/ginascarpa