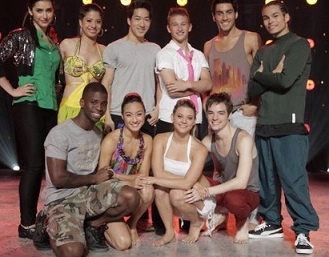 by Gina Scarpa
Tonight, the results show of So You Think You Can Dance kicks off with a Sonya Tayeh choreographed routine, performed by the Top 10. When introduced to the judges, Nigel talks about National Dance Day, happening July 31st. Fans can check out Napoleon and Tabitha's choreography and learn it on the website for Dizzy Feet Foundation. I admit that I checked it out and tried a few steps - it was challenging but lots of fun! For a minute there, I felt like Twitch or Comfort!
Cat calls the first three dancers onto the stage: Kent, Adechike, and Cristina. Kent and Adechike are safe, while Cristina finds herself in the bottom three for the second week in a row.
The next group of dancers to face the music are Alex, Ashley, Melinda, and Jose. Alex, Jose, and Ashley are safe while Melinda also finds herself in the bottom three again.
The last group to learn the results of the votes are Lauren, Billy, and Robert. Lauren is safe, finally proving that America isn't trying to pick off all the girls first, and so is Billy. That also proves that he has a strong following, no matter how rough the performance. Then again, Argentine Tango is never going to pull in the votes. Sorry, Robert. I mean, Roberto.
Tonight's first guest performance comes from Bryan Gaynor and his dance group, Remote Control. Fans of the show will remember Bryan as the dancer who popped and locked to "Fireflies" by Owl City and wowed the judges. Even though his disease prevents him from really being able to freely move and partner other dancers, he has a gift that is really amazing. It's great that Nigel invited him and his group to perform tonight because that was awesome.
Cristina performs and, even though she has a ton of fire and energy, all ballroom routines look the same during solos. That being said, I like what she did a lot more than Melinda. Her solos don't do it for me, which is certainly not the case for Robert. He was certainly giving it everything he had. There's no way he wants to go home this early, especially after being called the "dark horse" of the competition.
Costa Rican music star Debi Nova performs, backed up by six of the So You Think You Can Dance all stars - Comfort, Courtney, Lauren, Ade, Mark, and Neil.
At long last, it's time for a decision from the judges, and it is not a unanimous one.  Robert is safe and just when you think Melinda is headed home, Nigel reveals that he wanted to eliminate her but Mia and Adam voted to save her.  This means that Cristina is leaving - why, I have no idea.  Even Nigel said that she was amazing last night.  So... what's the problem?
Be sure to tune in when the Top 9 take the stage on So You Think You Can Dance, Wednesday at 8/7c on Fox.
(Image courtesy of Fox)

Follow Gina at twitter.com/ginascarpa
For more So You Think You Can Dance links, visit SirLinksALot.net