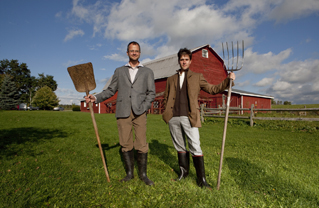 by Danae Young
Josh Kilmer-Purcell and Brent Ridge are taking on a whole new lifestyle. Today Brent spoke with RealityWanted about their new hit show on Planet Green, The Fabulous Beekman Boys. Trading in their Blackberry for actual black berries is just one huge change in their new organic lifestyle. The Fabulous Beekman Boys premieres Wednesday, June 16th at 9pm ET on Planet Green.
Q. Danae, RealityWanted: What motivated the two of you to leave city life behind in favor of working on an organic farm?
A. Brent: Well, we call ourselves accidental farmers. We had a habit of going upstate apple picking and about three years ago we were in Sharon Springs, NY when we drove by a house and saw the For Sale sign and decided to buy it. It was not a working farm when we purchased it. Farmer John asked if he could bring his goats to our farm. We were a farm without a farmer and he was a farmer without a farm, so it was a match made in heaven.
Q. Danae, RealityWanted: What was Martha (Stewart)'s reaction or advice when she found out your plans to purchase The Beekman?
A. Brent: Well the first weekend we saw the house I took the real estate brochure to her and she said, "Buy it," so we took her advice of course. She has been very supportive. She loves entrepreneurs.
Q. Danae, RealityWanted: When Planet Green approached with the idea of doing the show, what was your immediate reaction?
A. Brent: We are reality television fans and when we realized the reason we like the shows is because they are like a train wreck, we wanted to know what kind of train wreck we were going to be. We didn't want to look stupid so there was some hesitation. We felt very comfortable working with Planet Green. It is very educational and inspiring. We are very happy with what they produced.
Q. Danae, RealityWanted: How did working on the farm change your relationship, as opposed to when you both lived in the city?
A. Brent: We have been together for a long time, just over 10 years. Anytime you are in a long term relationship, you take the other person for granted. You are too comfortable with your choice of words and what not. The show made us realize how much we take each other for granted. It makes you more conscientious of what you do and say.
Q. Danae, RealityWanted: What was the most difficult part about adjusting to farm life?
A. Brent: For me personally, it was the absence of the blackberry. We traded in our Blackberry for black berries. We are so used to emailing someone and getting a response almost immediately, and out here you email someone and you may not hear back for a week. That was the biggest culture shock to me.
Q. Danae, RealityWanted: What is your favorite thing that you grow on the farm?
A. Brent: That's a tough question. We grow 110 different varieties of vegetables. We raise about 80 percent of all food we consume on the farm. We raise our own pork and our own beef. We just love the goats. Farmer John is essential to the show and our lives now. He takes such great care of the animals.
Q. Danae, RealityWanted: What are you hoping viewers will take away from watching The Fabulous Beekman Boys?
A. Brent: We want to inspire people but we know not everyone is going to buy a farm or start a company or anything like that. More than anything we want people to realize how important community is and how many treasures really are in your own backyard. We are so detached from people these days. You don't realize how incredible your next door neighbor is.
Q. Danae, RealityWanted: Anything exciting coming up?
A. Brent: Josh just had his book, "The Bucolic Plague," out this month. We are also launching a product called "Black Onion Jam." It's delicious. We are just continuing to grow the company and involving more people in our community. We are still kind of day-to-day trying to make the business grow. It's just continuing down that path.
(Image courtesy of Planet Green)
Follow Danae at twitter.com/danaeyoung