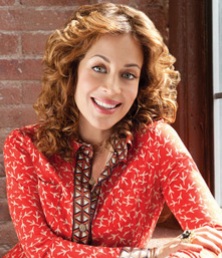 by Gina Scarpa
Season 6 of The Next Food Network Star brings big changes to the reality competition, from the addition of mentor Giada De Laurentiis to the setting being moved to Los Angeles. As the 12 contestants compete to win their very own Food Network show, they'll encounter A-list celebs like Eva Longoria and established Food Network stars, such as Paula Deen and Alton Brown, along the way. Today, we spoke to Food Network's Senior VP of Marketing and judge on The Next Food Network Star Susie Fogelson, who filled us in on the exciting new season, which premieres this weekend.
Q. Gina, RealityWanted: When you first started in marketing, did you have it in your mind that you might want to do television?
A. Susie: No, I'm certainly a behind the scenes person but it's an incredible opportunity to have a voice as to who our next great talent is. They look to me obviously as the marketing and branding expert. It's nice to walk in with that relationship solidified. The opportunities, being involved in the show, were so exciting that I decided to throw myself to the lions.
Q. Gina, RealityWanted: You've been a judge since the very beginning of The Next Food Network Star. Do you form attachments to certain contestants and hope they succeed on the show?
A. Susie: Absolutely! I'm only human. This is not a mean spirited show, like other reality shows can be. We're not out to screw these people. Basically, Bobby's there to protect the food factor and make sure they have the right level of culinary chops. Bob Tuschman is there to make sure that whoever wins is going to be great on tv and have really tight philosophy that our viewers and consumers want. My role is that I'll take one of them to become the next star and be in a business relationship with them. That's what I'm looking
for. I'm looking for a long term relationship, character, integrity, incredible skills, culinary philosophy, and that undeniable "it" factor.
Q. Gina, RealityWanted: It seems like there are so many cooking shows out there. Is it difficult for the contestants to come up with a concept that's new and fresh?
A. Susie: I definitely think it's hard. I wouldn't say that it's because of the reality frenzy, though. I think that it's just a really difficult job interview. This is basically weeks of the most intense job interview. The thing is that some people walk in with a point of view that they're not putting forth. Some will walk in and say, "This is what I do. I wanna be the healthy chef," and what happens is, over the course of several weeks together and digging deep and why they fell in love with food and why they wanna teach people and you get into the emotional point of the show, different points of view come out. We used to say, "What you come in with is what you stick with," but what we realized is that there's a lot of evolution on the show and that's good. Some people have it locked and loaded like Melissa, last season's winner. When you have something that is so deeply ingrained in who you are, you shouldn't move off that point of view.
Q. Gina, RealityWanted: Giada DeLaurentis joins the show this season. What does she bring to the table?
A. Susie: She's gonna bring a whole lotta gorgeous! I think it's wonderful for the finalists to spend time with someone who's done it and knows how to succeed at being a Food Network star. Not only is she beautiful and smart and perceptive, she's very supportive. She definitely connects to the finalists and wants to help them succeed in every way. We're so excited to have her.
Q. Gina, RealityWanted: Tell us a little bit about the setting for season 6. What made you choose Los Angeles?
A. Susie: Los Angeles is such a fun playground for this season. We did a little traveling in seasons past, such as Miami, but to be in LA for this long and take advantage of the rich fabric will make it our most powerful season to date.
Q. Gina, RealityWanted: What special guests can we look forward to seeing?
A. Susie: Eva Longoria is on the show this season;. She's a huge foodie and restaurateur. She's such an adorable person. You hang out with people obviously on the set for hours and hours. I had never met her so I didn't know how she was going to be and she was just awesome. She has a very strong opinion and she's gorgeous. We have Colbie Caillat, celebrating the Grammys. She's another total foodie and is lovely. I think we've got some really fun guest stars and we're chock full of our Food Network stars, from Paula to Alton and some of the Iron Chefs. Every episode is really so fun!
Q. Gina, RealityWanted: Speaking of Paula and Alton, we've seen many Food Network celebs over the years on The Next Food Network Star. Do they embrace the contestants as part of the family?
A. Susie: Definitely! I definitely think so. Bobby, I would probably say, is the most mentoring of the talent. He knows ins and outs of everything from doing four shows at one time to balancing his life with shoot schedules. He understands how to work consumer products. He owns restaurants, he does press, he's a dad and a husband. He would drop anything and take someone out for a drink. I think he's very special.
The Next Food Network Star premieres Sunday, June 6th, at 9/8c on Food Network.
(Image courtesy of Food Network)
Follow Gina at twitter.com/ginascarpa
For more The Next Food Network Star Links, visit SirLinksALot.net