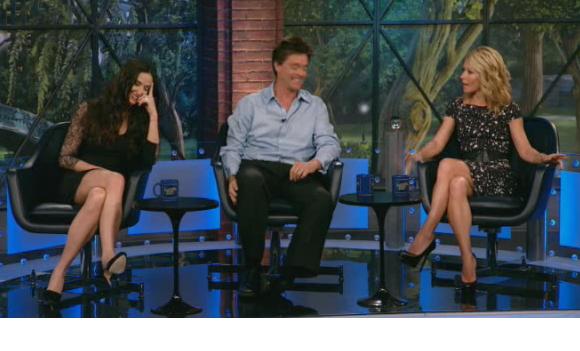 by Lindsay Strouse
After dozens of hilarious marital squabbles, The Marriage Ref, Tom Papa, is making his last call of the season with the help of celebrity panelists Demi Moore, Kelly Ripa and Jim Breuer. So if you think you're the only one having ridiculous arguments with your spouses, take a look at these next 4 couples.
The Issue: Mullet Over
Sarah Jane and Tony have been married for one year. Over that year, their love isn't the only thing that has grown—Tony decided it would be a good idea to grow out a mullet. You know, business in the front, party in the back. According to him, all the guys want to be him and all the girls want to be with him because of his awesome 'do.
The panelists take no time in deciding to go with the wife because honestly, who wants to have a husband with a mullet? After hearing the discussion, Papa agrees and tells Tony to put the party on hold for awhile. Sarah Jane celebrates her victory by shaving the mullet on live television. You go Sarah Jane!
The Issue: What's Your Name?
Erica Cobb and Jesse Lehman have been married for 4 years and can't decide on one thing—a last name. At the beginning of their marriage, Erica said she would consider changing it once they reached their 5 year mark, but doesn't seem to be going along that route. As a radio host, she doesn't want to lose her identity by changing her name. However, Jesse has no problem with her keeping it as a professional name. He just wants that small sense of pride of sharing the same name on checking accounts and official documents.
The panel is very divided over which spouse to side with. Erica tries to help her case by pointing out Beyonce doesn't go by "Beyonce-Z." Although the panelists were originally divided, they end up all siding with the husband. Papa decides to go with the wife anyways, until he hears a mass of "boos" from the audience. After some more discussion, he changes his mind. Jesse wins!
The Issue: Ring Me Up Sometime
The next couple of the night is Keith and Carol who have been married for 15 years. They've been together since high school and obviously know each other very well. He just doesn't know how much she likes rocks. After being married for 15 years, she thinks it's time for an upgrade. He has lots of different toys and hobbies that he spends excess change on and she thinks she deserves a new ring. But I mean, honestly, who DEMANDS a new wedding ring? Doesn't that kind of get rid of the romantic aspect?
All three panelists side with the wife and think if he's buying all this extra stuff for himself, he must be financially stable and can afford a new ring. Jim thinks he should get her the new ring but he has to know WHY he's getting it—it can't just be to get her to stop asking.
Papa agrees with the panelists and declares Carol the winner. But wait, Keith is already a step ahead of the game? He figured she would win, so he already picked out an upgraded wing. I must admit, it was quite romantic and Carol couldn't help crying.
The Issue: Sofa Bed or Sofa Dead?
The final couple of the night is adorable Joseph and Georgia who have been married for 66 years. She wants a new couch because "you need to have something new in your life no matter how old you are." Joseph thinks it's a pointless investment because they are going to die soon. Way to look on the bright side, Joe! Come on, the man should buy his wife a chair she can actually get out of!
After being on the show three times, Tom Papa lets Kelly make the final call. All the panelists, including Kelly, pick Georgia as the winner. She's done her time, she deserves a new couch!
Don't miss next season of The Marriage Ref airing on NBC.
(Image courtesy of NBC)
Follow Lindsay at twitter.com/LindsayStrouse
For more The Marriage Ref Links visit Sirlinksalot.net