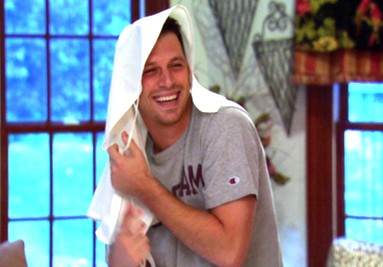 by Chandra Clewley
 The Real Housewives of New Jersey Season 2 is among us now, and Episode 2 seemed mostly like a lead up to a blow out that is sure to happen, but maybe not until the last episode, 14 weeks from now.  
In Teresa's life, she is 9 months pregnant and trying to get daughter Gia a modeling gig. Gia finally lands one for fashion week. She meets Jacqueline and Caroline for lunch and of course, doesn't miss the opportunity to bring up Danielle and find out if Jacqueline has spoken to her. Jacqueline admits to texting and phone calls but not seeing Danielle. She has decided, since husband Chris is not comfortable with their relationship that she is going to just have a peaceful acquaintance with Danielle. Caroline thinks it's preposterous and still can't stand Danielle.
Meanwhile, Jacqueline is also dealing with daughter Ashley, who comes over and brings her laundry. She lives with a friend now, and not at home anymore. Jacqueline seems upset that Ashley brings her laundry, and that Ashley admits that she goes out to clubs and drinks. Jacqueline wants to lecture her about having a designated driver but Ashley doesn't want a lecture. Plus, shouldn't this conversation, just like the safe sex conversation last week, have happened like 4 years ago????? Personally, I feel sorry for Ashley. I see that her relationship is strained with her family and she is trying to branch out and test the waters of being an adult. It's normal, after a kid goes through puberty to have a strained relationship with parents, but on top of that, at some point they picked up and left Nevada for New Jersey, and Jacqueline started a new family that probably didn't feel very inclusive for Ashley. You can tell Jacqueline was really young when she had her, and there are so many older kids that deal with this with second marriages and beyond.  Too bad she didn't just bust ass in high school and go away for college. Anyway, I digress, but, hey, she should be able to bring her laundry home! I bet Caroline would agree with me! 
Caroline, on the other hand, has all 3 kids at her place, having food fights in her kitchen, eating dinner, and fighting over Lauren dating Vito. Albie is still super uncomfortable with it. Get over it! Lauren deserves some lovin' too!
The main story line of this episode is Danielle's daughter Christine getting a photo shoot and agency interest for modeling. IMG wants to sign her and use her for fashion week, and they go to a photo shoot by Gilles Bensimon (ring a bell? Real Housewives worlds collide; this is Kelly of New York City's ex-husband).
The photo shoot goes great and Christine land the cover of a daily. Danielle is the typical stage mom, cheering Christine on who is annoyed by her but not in the same way that Jacqueline spoke to Ashley last season, which wasn't nearly as nice. 
In celebration, Danielle throws herself a party for her daughter, but Christine isn't invited. Danielle invites Dina and Jacqueline to the luncheon but they both cannot go. Dina is gracious, but Jacqueline is honest and tells Danielle that Chris isn't comfortable with their relationship. But, Jacqueline is "really proud of Christine". Grrroaannnn…am I the only person that gags when people say that they are "proud" of something they have nothing to do with? Shouldn't she say instead that "you all should be proud of yourselves?"  Ellen Barkin-but-not-as-hot-look-alike Kim D goes to the party, but doesn't openly talk smack to Danielle's face….she must be waiting until she gets around the Manzo's again for those pearls of wisdom, but Kim G, who Danielle always thought was Caroline's BFF, says that her son is friends with Christopher, Caroline's son, but she is not friends with Caroline.  Danielle must have found this refreshing. One can only wonder why she left two open chairs at her luncheon though. She says they were for Jacqueline and Dina, but both of them said they weren't going, so you can only assume the chairs are props to allow Danielle to bring up the Manzo's since, this season, she does seem obsessed with them "stalker style". I wish Danielle would just get over it! Every time she brings them up, I go back to thinking she is crazy again, after she has redeemed herself! 
Catch an all new Real Housewives of New Jersey next Monday night at 10/9 c on Bravo.
(Image courtesy of Bravo)
Follow Chandra at http://twitter.com/ChandraClewley
For more Real Housewives of New Jersey visit Sirlinksalot.net