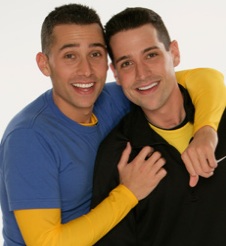 by Lindsay Strouse and Gina Scarpa
The Amazing Race came to an exciting conclusion Sunday night, with brothers Dan and Jordan Pious crossing the finish line first to claim the million dollar prize. It was younger brother Jordan's dream to not only run, but win, The Amazing Race and with help from Dan, he was able to achieve it. Today, Dan and Jordan spoke to RealityWanted in an exclusive interview about their big win, the alliances they formed along the way, and the highs and lows of the race.
Q. Lindsay, RealityWanted: Dan, when Jordan asked you to be his teammate on The Amazing Race, were you on board right away or did it take a little convincing?
A. Dan: In all seriousness, I needed a lot of convincing. Jordan tried to get me to do season 15 but I didn't want to. Then, he sent me a big long email begging me to do it which was really convincing and I decided to do it!

Q. Lindsay, RealityWanted: Jordan, do you think that being such a big fan of the show helped you and your brother along the way?
A. Jordan: It's interesting. My knowledge of the race really helped us in preparing and helping our strategy. We did a lot of preparation mentally and strategically so we knew how to handle roadblocks and whatever else we had to face. Knowing the race and that there was probably going to be a memory challenge. I brought a notebook to take notes. I took notes on everything and that really helped.

Q. Lindsay, RealityWanted: The race can definitely take its toll on teams. Which leg was the most stressful for you?
A. Dan: Probably the most stressful was the first night. I was very sick for the first leg so it was really tough to get through. The race is hard enough when your 100 percent. It becomes mentally draining so adding sickness on top of that can really take a toll on you.
A. Jordan: The one that was most stressful for both was the last leg in China. The language barrier was very difficult and stressed us both out.

Q. Lindsay, RealityWanted: Some alliances were formed this season. Did you have anything set in stone with any of the teams?
A. Dan: There was a lot of stuff that wasn't shown for alliances. It's not as much of a big thing as Survivor. At the end of the day, you're still going your opposite way. We worked with Mike and Louie and Monique and Shawne at the beginning of the race. We called it The East Coast Alliance! That wasn't really shown though. We started working with Brandy and Carol and then with Mike and Louie again. At the end of the day, everyone is lost and out of their element.

Q. Lindsay, RealityWanted: How do you feel about the way that Joe and Heidi and Carol and Brandy were eliminated, because of U-Turns?
A. Dan: Brandy and Carol had their own personal issues and Katie decided to U-Turn them. Joe hurt his knee but then he when he was getting theVIP treatment on the bus and began talking about how he didn't see any of the teams as a real threat, he kind of rubbed teams the wrong way. He didn't think that was a big deal and ultimately both U-Turns were done for personal reasons. That's why we tried to be friendly with everyone.
Q. Lindsay, RealityWanted: Do you think that cutting in line at the airport in China, ahead of Jet and Cord, is one of the major reasons you won the race?
A. Dan: The cut in line in no way, shape or form affected the outcome of the race. Brent and Caite were first in line. It had absolutely no affect. Our move to the front of the plane would have happened no matter where we were originally sitting on the plane.

Q. Lindsay, RealityWanted: What has it been like to watch yourselves on tv?
A. Jordan: This has been so exciting. It's been exciting to watch. With each leg of the race I get to share that experience with my family and friends and tell them how unbelievable that place was. We got to relive these memories over again.

Q. Lindsay, RealityWanted: Have you given thought to what you want to do with the prize money?
A. Dan: We are both in agreement that after paying Uncle Sam, we're going to put in for an investment. We're going to do the responsible thing-no houses or luxury cars.

Q. Lindsay, RealityWanted: What was the best part of being on The Amazing Race? What will you remember most?
A. Dan: For me, I'm such a big sports fan and so when I realized we were going to Candlestick Park, home of the San Francisco 49ers, it was the coolest thing. To be on the 50 yard line of an NFL field for the end of the race was incredible.
A. Jordan: I would second that. But also the best part of the race was when we went to Seychelles. It's seeing places like that that made me always want to do The Amazing Race. Being in a tropical paradise with my brother on the show made me quite happy.
(Image courtesy of CBS)

Follow Lindsay at twitter.com/lindsaystrouse and Gina at twitter.com/ginascarpa
For more Amazing Race links, visit SirLinksALot.net