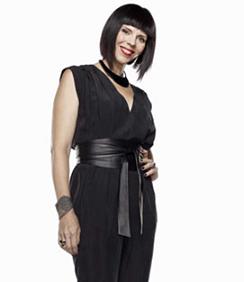 by Gina Scarpa
On last week's finale of Project Runway, Emilio, Mila, and Seth Aaron presented their collections for the entire country (and the judges) to see. The judges thought Mila's show was a success but questioned whether or not her collection was necessarily surprising. She was auf'd first, with Seth Aaron finishing as the winner of Project Runway. Today, Mila spoke to RealityWanted in an exclusive interview about butting heads with Jay, whether or not she took Tim's advice, and what's next for this up and coming designer.
Q. Gina, RealityWanted: What made you decide to try out for Project Runway this season? Were you a fan of the show?
A. Mila: It was a very "why not?" moment. A friend who knows a casting director at Bunim/Murray contacted me and asked if I would be interested in applying. I was in between film and tv jobs and went for it. I have seen every season of Project Runway! I'm a big fan.
Q. Gina, RealityWanted: Which designers immediately stood out to you as your biggest competition in the early weeks?
A. Mila: Jonathan, Maya, Emilio, and Jay.
Q. Gina, RealityWanted: You butted heads with Jay Nicolas this season. What was the issue between you two?
A. Mila: It was a fundamental personality conflict. You know, you either click with someone or you don't. We have VERY different personalities, and as the competition went on, the lack of communication and "cliques" occurring, for example, he and Anthony, made our lack of a relationship even more intense. Then it became one of those things where everything the person does seems to irk the other.
Q. Gina, RealityWanted: Is there anything that you said about anyone that you later regretted?
A. Mila: The only thing I regret was the way I dealt with Alexis, my model in the first challenge, not choosing me for the burlap challenge, and saying it was "her loss", as it came across as belittling Anthony. That was never my intention. I think I was trying to make light of it, but it came across as condescending and insulting to Anthony. In hindsight, it was the best thing that could have happened, as I was able to work with the amazing Lorena.
Q. Gina, RealityWanted: Was there anything said about you that hurt your feelings?
A. Mila: A LOT of things! Jay said I was fake, which is pretty hypocritical. I'm about as straight a shooter as you'll find. Anthony said I was old. Jonathan said he did more work than I did, and aside from not agreeing with that, I wish he'd have brought any issues he had to me directly instead of saying it in an interview behind my back. I liked Jonathan and was glad to be working with him as a partner, so that really hurt when I watched it back. Also, I consider myself a really hard worker so that was pretty off base.
Q. Gina, RealityWanted: Some designers choose not to listen to Tim Gunn's advice. How did you feel about the advice you were given this season and did you take it?
A. Mila: I have so much respect for Tim and think he is the best mentor one can have. I always looked forward to his critiques. That said, as a confident designer, I had to consider his advice each time and ask myself if it resonated. I took his advice in almost every challenge except the Museum Collection challenge, which I won. However, I think that even if Jonathan and I had taken his advice, it still would have been a winning look.
Q. Gina, RealityWanted: How long did it take you to finish your final collection for Bryant Park?
A. Mila: Overall, I didn't actually start constructing anything until about 2 ½ months out, even though we were given about 4 months.
Q. Gina, RealityWanted: What did it mean to you to be able to show your work at Fashion Week?
A. Mila: Unbelievable. This was the holy grail. Watching it on the monitor backstage was a high like no other, and watching it on tv last Thursday with over a hundred people., at our fundraiser viewing for Project Angel Food, was just as wonderful. It meant SO much to me to earn the 3rd finalist spot so that my collection could be televised to millions. I'm proud of it, and wanted to show everyone what I can really create when given the chance to make a collection using a proper design process and not in the pressure cooker.
Q. Gina, RealityWanted: It seemed like Heidi liked your work the most, out of all the judges. Did you feel like she really got who you were as a designer?
A. Mila: Yes, I do. I think Heidi relates to what I design because, although she loves high fashion, as a 30-something woman and mother of four, she appreciates stylish yet approachable clothes, and as she said, "classic with a twist", which are often harder to design than super editorial, avant-garde clothes. If I were right out of college, I'd be designing differently; now my priority is to design wearable clothes that still have an edge, for real women.
Q. Gina, RealityWanted: How do you feel about where you finished in the competition and Seth Aaron's win?
A. Mila: Well, for a long time, I felt like the underdog. I started off strong in the competition and then lost my way a bit. Having to fight for the 3rd finalist seat was tough, but at the same time, I just visualized showing at Fashion Week, and to everyone. I felt so good about my collection, and that's all I could do. When I got to New York and saw Seth Aaron's and Emilio's collections, I started thinking I had more of a chance at winning; I thought I was good competition against them. Honestly, I was a little disappointed I was "auf'd" first, but in the end, the big prize was earning that 3rd seat so that the collection was televised. I think I had a good chance against Seth Aaron if it had been just about the collections, but he was more consistent throughout the competition, and in the end, fashion is subjective and it's apples to oranges. You could argue that his collection is more editorial and had more stage presence, and that mine is more wearable. He deserves the win and I'm really happy for him.
Q. Gina, RealityWanted: What's next for you?
A. Mila: My goal is to get my line going and into stores as soon as possible! My jobs as a costumer pay the rent, and pay for fabric, and keep my health benefits alive, so I'm grateful to have that to fall back on, but ultimately I want to be a full-time fashion designer which has been my dream since I got out of colleg and make my clothes accessible to women everywhere.
(Image courtesy of Lifetime)

Follow Gina at twitter.com/ginascarpa
For more Project Runway links, visit SirLinksALot.net