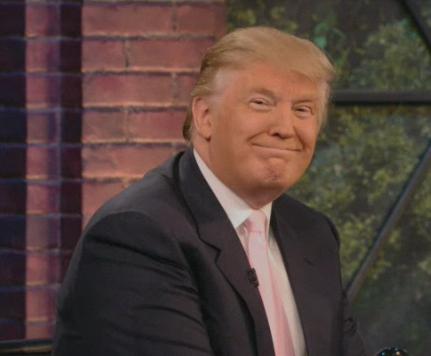 By Lindsay Strouse
Last night on The Marriage Ref, we were joined by comic Adam Carolla, singer Gloria Estefan and business mogul Donald Trump on the panel. It was quite an interesting pairing and made for some very different outlooks on these marital fights.
The Issue: Driving Miss Crazy
We first meet Don and Phyllis who have been married for 41 years. Now a man can only listen to so many people talking into his ear. So who should he listen to when one is his wife and the other is the GPS? Don doesn't want to listen to either.
Donald Trump doesn't have much input since his chauffeur is the one doing all the driving. According to our "Just The Facts" girl, men actually do have a better sense of direction. If that's the case, why are all the GPS's in FEMALE voices, huh?
All three panelists side with the husband and feel he should not have to listen to two voices screaming in his ear during a car ride. Papa decides he is allowed to turn up the radio and drown out both the GPS and Phyllis.
The Issue: Called for Clipping
Antwon and Lazaundra have been married for 14 years. She's a coupon clipper and he's a little embarrassed to go shopping with her. The husband wants to know why he has to go with her when she is grocery shopping. What is her response? "Because I want you to!"
Once again, Donald isn't too familiar with this concept, but he does commend Lazaundra for trying to save the family money.  All three panelists side for the wife and Papa agree. Lazaundra wins! She's saving money, what's so wrong with that?
The Issue: That's How She Rolls
Ron and Patsy have been married for 28 years. Patsy takes it upon herself to add excitement to her life and spends all her time at the roller derby. I'm talking, physical, pushing other women over the railing, bloody lip, roller derby. During all this, Ron is stuck home cooking eggs for himself every night.
Adam thinks Ron should appreciate a sport where his wife looks so good doing it. So she bruises a couple ribs in the processes, at least she looks hot right? I'm going to have to disagree with that statement. Gloria agrees with the wife and thinks the husband should get involved in the sport as well. The decision: Patsy gets to skate until she breaks something. She wins.
The Issue: Duck Shop
Rob and Misty have been married for 3 years. Joining them in their quaint home is a dog with an afro and a few ducks. They love the ducks, they just don't know what to do with the eggs. Rob wants to eat the eggs, but Misty refuses. And so the question becomes: If your animal produces something edible, should you be forced to eat it?
Apparently the husband already slips the eggs into his wife's diet. Low blow, Rob, low blow. Adam's solution is to simply use the eggs to egg a sexual predator's house. Where the sexual predators entered this conversation, I don't know. At least the eggs are going toward a good cause.
Both Adam and Donald Trump side with the wife and Gloria is too confused to make a decision. Gloria's confusion aids in the call: The duck, Lucky, wins!
The Issue: Indian Statue
The final couple of the night is Anthony and Patti who have been married for 13 years. Anthony has a creepy Indian chief statue in their house and Patti wants it gone. Gloria thinks the obvious solution is to play tricks on Anthony with the statue. After hearing her brilliant idea, Tom Papa lets Gloria make the final call. She decides to let the statue stay and Patti can throw a blanket over it when Anthony isn't looking.
The Marriage Ref airs on Thursdays at 10/9c on NBC.
(Image courtesy of NBC)
Follow Lindsay at twitter.com/LindsayStrouse
For more Marriage Ref links, visit SirLinksAlot.net