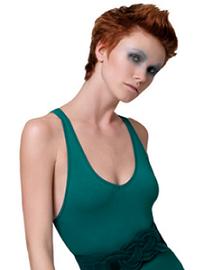 by Gina Scarpa and Michelle Spigner
Last night, on America's Next Top Model, Jessica won a challenge showing off her knowledge of the fashion industry and received a photo shoot with Seventeen magazine as her prize. She was able to bring two people with her and took Brenda and Raina along. Later, after their New York City women photo shoot, Tyra comes down on Brenda for lacking the fire it takes to be a successful model. After being repeatedly criticized for looking old in her pictures, Brenda was eliminated from the competition and spoke to RealityWanted in an exclusive interview today about her experiences on the show.
Q. Gina, RealityWanted: What made you want to try out for America's Next Top Model this cycle?
A. Brenda: I started modeling when I was 16 and I watched the show ever since the first cycle when Adrienne won. I always thought it would be so interesting to just try out. I knew it was different than modeling because it had a lot to do with tv production. I said, "I already have these skills and I have the looks, so why not?"
Q. Gina, RealityWanted: Being a fan of the show, was it surreal to actually be part of it and see Tyra, Nigel, and the Jays?
A. Brenda: Oh my goodness, it was literally an out of body experience. When I saw them, I was like, "Oh my God, they're like dolls!" TV doesn't do them justice.
Q. Gina, RealityWanted: How do you balance modeling with being a mother?
A. Brenda: It's hectic. You can't be a selfish person. I've been a single mom since I was 18. Her father now started to help out but it's hard. You gotta put your daughter first but you gotta
Q. Gina, RealityWanted: It took some time for you to get used to your hair and your makeover. Can you talk about the process that you went through?
A. Brenda: When I got my first makeover it wasn't a secret that I didn't like it. I told myself at night, "You won't go home over this." I worked too hard and got out of two modeling contracts and left my daughter and I said , "Get over it." I tried different hairstyles. I tried different things to be a team player. It took me, honestly, a good week and a half. You're in a competition that doesn't last that long. I think it took me two days to get over the shock and it didn't help with the girls making fun of me.
Q. Gina, RealityWanted: Speaking of the other girls, how did you feel about your relationship with them? Are you close with girls in your everyday life?
A. Brenda: I really am an extremely patient person. I know how to keep my mouth shut. I've worked in the professional world and in the industry but when someone is poking and poking, even off camera, you're only going to break after a while. In my real personal life, I get along great with other girls. I have lot of friends but I have a very small intimate group that I trust.
Q. Gina, RealityWanted: Was there a certain aspect of the show that surprised you, or maybe that you weren't prepared for?
A. Brenda: As crazy as it sounds, for someone who's watched every cycle, I knew I was going to get a haircut but I wasn't prepared for such a drastic change. Until it really happens ad those buzzers come out, you can't imagine what that's like.
Q. Gina, RealityWanted: Did you disagree with the feedback from the judges and were there times that you wanted to speak up and respond to their critiques?
A. Brenda: Of course, I would look at them like, "Are you crazy?" They would call me old looking and old bones. When I came in, I had this long, signature, red hair and you cut it off, not me. You made me look very mature. Short hair matures you a couple years. I hate to say this, and I don't know if this is bad, but I feel like I was set up. It wasn't an even playing field because even Tyra said, "You're too sexy," and cut the hair off and said the other girls need to be sexified. My self esteem took a hit.
Q. Gina, RealityWanted: Do you feel that you left the competition too early and that, if you still had your long hair, you would've made it further?
A. Brenda: I can guarantee you... if they had left my long hair... I don't need to be the winner but if I was top 3 or top 4, I could sleep at night. Leaving the house that night, it was so unexpected. I had great pictures the past two weeks. I didn't show up to panel in bathing suits, I didn't call people names, so I was shocked.
Q. Gina, RealityWanted: What is the biggest lesson you learned about yourself through being on America's Next Top Model?
A. Brenda: The biggest thing I learned about myself is that I thought that having long hair made you beautiful and made you feel more this and that but it's not always about that. It sounds so cliché. It's not always about outer beauty, it's about inner beauty. I felt like the ugly duckling but I had to learn how to not show it and feel good about myself. That was a hard lesson.
America's Next Top Model airs Wednesdays at 8/7c on the CW.
(Image courtesy of the CW)

Follow Gina at twitter.com/ginascarpa
For more Top Model links, visit SirLinksALot.net