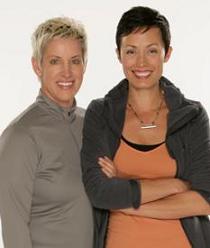 by David McAlpine and Gina Scarpa

This week, on The Amazing Race, the dreaded U-Turn made its way to Singapore, along with the remaining five teams.  Brent and Caite rushed to finish their Detour so that they would have the opportunity to get some revenge on Carol and Brandy, who they feel have been rude to them from the very beginning.  Forced to complete both tasks, Carol and Brandy fell to the bottom of the pack and were the last to arrive at the pit stop.  Today, the eliminated team talked to RealityWanted in an exclusive interview about the way they went out, their feelings towards Brent and Caite today, and what lies ahead for them.

Q. David, RealityWanted: Whose idea was it to try out for The Amazing Race this season?
A. Carol: A friend suggested that we go on it because we had good energy and there hadn't been too many lesbians on the show, plus no two women had won before. It was intriguing and we weren't too particularly familiar with the show; we hadn't even been together that long when someone suggested we try out for it, maybe 4 or 5 months. Definitely the least out of anyone.

Q. David, RealityWanted: Did you do any preparation before you headed into the race, physically or mentally?
A. Brandy: We didn't just watch them, we studied them and we talked about tasks and what we would pick and why and who would be better at what. We even studied what they were wearing! And we worked out a ton.
A. Carol: I went hiking with my pack a lot. I would jam stuff in it and then make sure I could handle it all. We also practiced bungee jumping, which was a mistake because I didn't have fear of heights before we did that, but after was a different story.

Q. David, RealityWanted: Did the two of you talk about how you were going to handle stressful situations before you went on the race?  How do you feel you communicated with one another once you were on it?
A. Carol: There wasn't going to be one person who was in charge. We knew if one person felt strongly about something, we were going to go for the stronger opinion. One example was the sauerkraut, when Brandy was so confident about it, I had no choice but to say she was absolutely right. We knew we wouldn't be fulfilling the traditional roles.

Q. David, RealityWanted: Brent and Caite felt, from the beginning, that you were mean and condescending towards them.  Looking back on it, and having seen the episodes, do you regret anything that you said about them?
A. Carol: You know, I made a joke day 1 in passing about how she would be racing in her sash and her tiara. I also made a joke about being amazed that the cowboys were racing in their magic hats, so if that makes me a mean person, so be it. I was surprised at the animosity because we didn't hate them, we don't hate them, either.
A. Brandy: I think they were manipulated a lot by Mike and Louie, too. We were labeled "the lesbians" as a group and I think she might have an issue with us as lesbians. Yes, we didn't go out of our way to be friends, but were always on different planes or different buses--there wasn't much opportunity to interact with them. There's no excuse for unsportsmanlike talk, but I'm owning everything I said last night.

Q. David, RealityWanted: How much did being U-Turned set you back?  How long after Michael and Louie did you arrive at the pit stop?
A. Carol: We did two tasks in maybe 15 minutes more than it had taken Mike and Louie and the Cowboys to do just one tasks. I think we were making up time, but it still would have been impossible to catch them. We blew though the ice cream, though, and we didn't even have our cab driver by 10 dollars of it, either!

Q. David, RealityWanted: If you were the ones to arrive at the U-Turn first, would you have used it?
A. Carol: Yes, but we would have used it on the Cowboys. They'd won the most legs, the leg prior they'd set an Amazing Race record; they were clearly the most consistent competitors. If they weren't available, we would have done Mike and Louie and, if not them, Brent and Caite.

Q. David, RealityWanted: How confident were you that you would make it to the final leg of the race?
A. Carol: With each leg, we gained more confidence. I remember at the beginning of the race, I looked around and I saw all these strong teams. They could lift more, run faster; we just needed to be consistent and not make mistakes. At the point of the U-Turn, we were running in third, so yeah, pretty good odds.
A. Brandy: We tried to focus on the race, not the racers, and I think that helped a lot.

Q. David, RealityWanted: How has running The Amazing Race changed your relationship with one another?
A. Carol: It's a unique experience. You're put in stressful, sleep-deprived situations that don't reflect the worst things that can happen to you in real life. You know a lot of the other teams were siblings and friends--they've had every fight they could ever have. Our emotional investment was not as great as some other people, but I think we did great all things considered.
The Amazing Race returns in two weeks on Sunday, April 25, at 8/7c on CBS.

(Image courtesy of CBS)


Follow David at twitter.com/davidmcalpine and Gina at twitter.com/ginascarpa

For more Amazing Race links, visit SirLinksALot.net