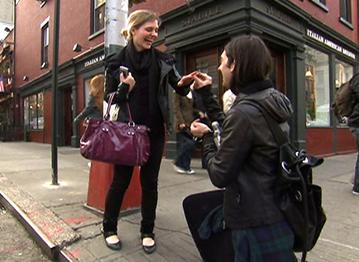 by Gina Scarpa
Last night, on Kell On Earth, Skinner and Andrew team up to plan a surprise birthday party for Kelly. However, trying to sneak anything past Kelly is quite a challenge. She's on top of everything that everyone in her office is doing 24/7 so they're going to have to be extra stealth in order not to get caught.  In trying to decide what cake to order, Skinner and Andrew pose as an engaged couple in order to get some samples to try out.  I like the way they think!
Kelly makes a decision to get rid of any clients who are having money problems in order to sign people that will actually fork over the cash. Makes sense. She gets a call from DKNY, who asks her to help on a short film they'd like to do to promote a new line of sweaters called The Cozy. Taking on the role of producer, Kelly oversees every major aspect of the shoot and, as you would expect, takes no prisoners on site. There's only a limited window of opportunity in order to film before they're shut down since they have no permit.
Meanwhile, back at the office, Andrew and Skinner dropped the ball a bit with the RSVPs. The party will be at the Carlyle Hotel, Kelly's favorite place in New York, and the limit in the suite is only 15 people. The invite list got a little better than they thought so cuts have to be made.  Andrew heads over to the hotel first, cake and all, to make sure that things are set up and ready to go before Kelly arrives.
Kelly finishes her shoot and no one gets arrested for filming without a permit so it's a success!  The video is great and will be uploaded to Facebook, where DKNY had over 65,000 fans who will see this new line of sweaters.  Actually, DKNY now has close to 100K fans so that's a lot of eyeballs!  She wants to just head back to the office and drop a few things off but Robyn convinces her to push ahead and head to the Carlyle for some drinks.
When Kelly arrives at the hotel, she actually shocked to see her friends and employees waiting there to shower her with gifts and birthday love... so shocked that it brings her to tears.  Aw, underneath that tough exterior is a big teddy bear.  How do you not love Kell?
Kell On Earth airs Mondays at 10/9c on Bravo.
(Image courtesy of Bravo)

Follow Gina at twitter.com/ginascarpa
For more Kell On Earth links, visit SirLinksALot.net