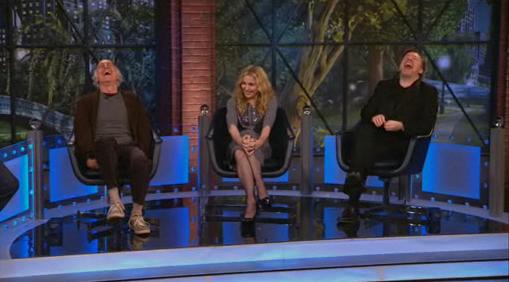 By Lindsay Strouse
This week's panel of "expert" judges on The Marriage Ref consist of Larry David, Ricky Gervais and Madonna. The panel is joined by the marriage ref himself, Tom Papa (who I have a feeling is going to be siding with Larry a lot tonight). I know not all relationships are perfect, and I've heard an odd fight or two before…but these next four couples will make your relationship feel like paradise.
The Issue: Working For Love
We first meet Alan and Mindy Goldman who have a very common relationship dispute. Mindy wants her husband to clean up and he just doesn't want to do it. Here's the catch: clean up or no lovin'. To give a basic idea of their daily conversations:
Husband: I don't do dishes.
Wife: Yes you will or you won't get a massage.
Husband: I don't vacuum.
Wife: If you want to go to bed, you do.

Madonna makes a good point by noting it's a bit strange that the husband needs to be clean in order to be dirty. Larry adds in it is shocking he wants to even be with her after 28 years of that nagging. He has one word for Alan that he feels will solve all his problems: prostitute. Oh yeah, that's some pretty solid advice.
The panel agrees that one should not use sex for cleaning or withhold sex for not cleaning. All three side with the husband and declare the wife has created a hostile work environment without the sex. After hearing the panel's decision, Tom sides with the three judges and chooses the husband as a winner.
The Issue: An Urn And A Leg
Next we meet the Harpers who have been happily married for three years. There seems to be a few things coming between the new marriage however: a couch, an urn and a leg. The wife has an urn with the ashes for her dead husband along with his plastic leg to remember him by. The husband refuses to get rid of a couch on which he made love with his ex (mind you, this was before they got married).
Ricky things it's fair to keep the urn because it's personal and sentimental…but a leg? Not so much. Madonna thinks we should avoid this entire conversation and just take the couple on a trip to the funny farm. If that doesn't go over well with the Harpers, Madonna will settle for them getting rid of the couch and the leg and getting a new vase for the ashes. Larry agrees on 2 out of 3 things: The Harpers should get rid of the couch, the leg and the wife.
We meet the Harpers and before the call is even made, the wife says her ex husband, Don, loved Larry and that she wants one of his legs when he dies. That's that EXTREMELY strange or anything. When it comes down to decision time, neither man nor wife wins. The winner is Don! The couch and the leg get the boot and Don is there to stay.
The Issue: The Iguana
The Banners have been married for fourteen years and love each other very much. There's just one problem. The husband thinks his wife loves her pet iguana, Iggy, more than she loves him. I can see how that might pose a problem. The wife spoils Iggy and probably has more hats and outfits for him than I have for myself. She admits she even kisses more on him than she does her husband. It's no surprise the husband is getting a bit jealous of the lizard.
Madonna thinks it's not unreasonable at all to keep an iguana in the house and dress him up. People dress up their children and their dogs. All pets are equally weird, so why not dress up an iguana! I'm siding with Larry on this one; an iguana in the house that is treated like a baby is just insane. However, I have to admit the iguana is quite perceptive…it might as well be treated like a child.
Larry and Madonna continue to bicker with each other and start more of their own problems more than they help the Banners with theirs. Larry's solution is that everyone should get divorced. Hey Larry, no marriages, no show!
Madonna sides with the wife and Larry with the husband. Ricky also sides with the wife but thinks the iguana should remain undressed. Tom hears the panel's opinions and decides to side with Larry and choose the husband as a winner.
But wait! Our "just the facts" girl comes in at the last minute and adds that it was actually the husband that brought the iguana home in a cage. That immediately makes Larry and Tom change their minds. The call is: you bring it home, you keep it. The wife wins!
The Issue: The Mom-Wife
Psychiatrist and neurologist Clive Spiegel has had fourteen years of marriage with his wife—and 45 years with his mother. The wife doesn't like his mother because he frequently confides in her about every little detail of his life. Yes, that includes their sex life. You would think Clive's mother would be some kind of loving, "my son is the greatest" kind of person, but no. In the words of Clive's mother:  "you are a yellow belly coward. You're 45 years old—if you don't have sex with your wife now, when will you have sex with her?" That's not awkward or anything.
Larry is convinced Clive is in love with his mother and the wife has no chance. I mean, why is he 45 years old, a successful psychiatrist and talking to his mommy about his sex life? I hope his clients weren't watching tonight's show.
All three judges agree with the wife and Larry decides the mother shouldn't be allowed in this house. If she is, there should be a muzzle nearby. The call is Clive can talk to his mother on birthdays, Mother's Day and Sundays for fifteen minutes. In short, the wife wins.
Good luck tomorrow at work with your clients, Clive.
The Marriage Ref airs Thursday nights at 10/9c on NBC.
(Image courtesy of NBC)
Follow Lindsay at twitter.com/LindsayStrouse
For more Marriage Ref links, visit SirLinksAlot.com