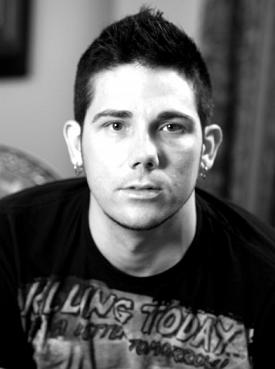 by Christopher Straub
Project Runway Season 6
Episode 6: "A Little Bit of Fashion" or "Designer Day Care"
First-off, I realize I haven't been blogging on the past couple of episodes...I've got good excuses, though:
1) I was in Alaska for, what I call, Anchorage Fashion Week
2) I was in NYC for regular New York Fashion week
3) I've been siiiiiiick!!! Campbell's should send me some damn soup.
This week on Project Runway, the challenge is to create a look for a bunch of adorable little girls. In my time before being on the show I would dream-up challenges and this was one of them. Another one I thought of was a pregnancy challenge and we ended-up having that on my season.
Tiny $50 budget, 30 minutes at Mood and this is a 1 day challenge.
At this point they show Jonathan doing a Michael Kors impression...I did that ALL the time on season six but they never showed it. Maybe it'll be in the DVD coming out at the end of the month...love those deleted scenes.
Sew, sew, sew.
SURPRISE! Additional challenge! Make a corresponding look for their traditional, big girl, models. This time they have 20 minutes to shop and $100 to spend. Thank (again) Mood!
More sew, sew, sew.
Let's start the show...
(The following statements are made as the models are coming down the runway. This is before seeing the top 3, bottom 3 and listening to the judge's thoughts.)
Anthony
Little Girl: Print and solid pink dress...cute but not earth-shattering.
Big Girl: Pink dress with ruffle neckline. Same comment as above. Pinks didn't match, though. You'd think he would have brought a swatch from the first dress with to coordinate the colors...but what do I know?
Amy
Little Girl: Aqua sweater and tiered orange skirt. TOTALLY cuteness!
Big Girl: Aqua tank and graphic pants. The pants were very "forward" thinking. Maybe making them more tonal (all pinks or all aqua) would have been safer but "safe" is not our girl, Amy.
Ben
Little Girl: Simple lavender dress. Simple. Not much to say about this one.
Big Girl: Blocked grey jacket and skirt. Not much to say about this one, either.
Seth Aaron
Little Girl: Hound's-tooth hooded jacket and black skirt. This is totally age appropriate and easy to wear for the young ones.
Big Girl: Black and white jacket and pants with leg detail. The jacket is A.Mazing!!! The dude can make beautiful separates.
Jesse
Little Girl: Red and grey dress with red jacket. Points for making a lined jacket for little Ava.
Big Girl: Grey dress with black side panels...Flight Attendant, anyone?
Jonathan
Little Girl: Yellow and white dress with petal detail down the front and bolero. Yay! Fashion!
Big Girl: White petal-ly dress. A piece after my own heart...love me some petals.
Maya
Little Girl: Yellow jacket, coral top, black leggings. This looks like the most current for the age of this girl...it's forward and not boring.
Big Girl: Chartreuse asymmetrical jacket and brown(?) pants. Eh.
Mila
Little Girl: Pink and lime dress with dotted leggings. It looked home-made...by the girl. It was very cartoony and not as pleasing as the adult look.
Big Girl: Black and white coat. I wish the two looks had more in common than just shape.
Emilio
Little Girl: Generic pink dress. No lie when I say that this dress can be found ANYWHERE in the Spring...really.
Big Girl: Baby pink dress with shoulder detail. Now this is cute. Good length, good color...why so blah for the first look???
Janeane Marie
Little Girl: Orange top and graphic leggings. The top is so-so but LOVES the leggings.
Big Girl: Orange jacket, graphic top, black pants. These looks might not be the most original but side-by-side they looked very complementary.
Jay Nicolas
Little Girl: Plum top and jeans(?) Did he make those pants or is she wearing her own???
Big Girl: Textured plum and black top and black pants. I'm not feeling it on the top.
My top designers: Seth Aaron...Jonathan for the win...Amy for taking risks.
My bottom 3: Ben, Jesse, Mila
Jonathan, Amy, and Janeane get the lowest scores...WHAAAAA?!?!?!?
Judges liked Jesse (for some reason), Seth Aaron (of course), and Jay (whatever).
Seth Aaron gets the win (yippee) and Janeane goes home (that's fine with me).
So what's the lesson this week? Risky looks don't always get you points with the judges. Kids...sometimes it pays to be safe.


Follow me on my Facebook Fan Page or at twitter.com/schmistopher. Be sure to stop by my webstore at christopherstraub.com

Project Runway airs Thursdays at 10/9c on Lifetime.
For more Project Runway links, visit SirLinksALot.net