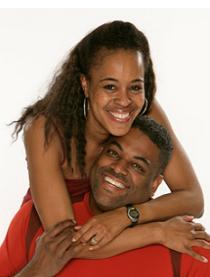 by Gina Scarpa
On the season premiere of The Amazing Race 16, 11 teams set out on a race around with the world, with their first stop in Chile. There, the teams had to complete a Road Block, in which one member would have to walk across a wire suspended in the air - a task that requires both a lot of strength and a lot of balance. For Adrian, the task was extremely challenging, given his size and, more importantly, his fear of heights. He fell off the wire twice and was forced to start again. When he couldn't complete the task, host Phil Keoghan came to find them to tell them that they had been eliminated since every other team had checked in. Today, teammates Dana and Adrian spoke to RealityWanted in an exclusive interview about their experiences on the show.
Q. Gina, RealityWanted: What made you decide to try out for The Amazing Race and how did you end up becoming a part of this season?
A. Adrian: My wild and amazing wife is always thinking outside of the ordinary. We've always been fans but I never thought we'd get on the show. She saw an open casting call in Dallas and said, "Mark your calendars, let's go for it!"
Q. Gina, RealityWanted: Did you do any preparation for the race, physically or mentally like learning different languages?
A. Dana: We had been working out. I started weightlifting last year and lost 20 pounds. We did a lot of preparation physically but languages, no. I took 4 years of Spanish...
A. Adrian: You don't know where you're going on the race. You can learn Chinese but you don't know that you're going to China.
Q. Gina, RealityWanted: How did you calm your nerves at the starting line for the race?
A. Dana: It was very uncomfortable, wet, and rainy that day. We were saying to ourselves, "Let's go." We were ready to move. There's a whole lot that goes into it before that point.
A. Adrian: They hold you back and hold you back and hold you back until you're ready to go!
Q. Gina, RealityWanted: Which teams did you click with?
A. Dana: Jeff and Jordan and we didn't even know who they were until later. We immediately liked them.
A. Adrian: We liked Monique and Shawne but not right away.
A. Dana: On CBS's website, there's extra footage from the first episode. They hid a book from us. There was a Chile guide book in the airport and the woman at the bookstore said that someone had hidden it. We didn't get a chance to say something to Monique and Shawne then about it but that was our first impression of them. Later on, we were waiting for a taxi and we got to talk to them.
Q. Gina, RealityWanted: Talk to us a little bit about the challenges you faced in that Road Block, Adrian.
A. Adrian: Before Dana and I started the race, the month before, we designated who would do what. Based on my fear of heights, Dana would do those challenges and based on my strength, I would do all the heavy lifting challenges. That's what was so frustrating about it. To make the wrong decision like that was insane.
A. Dana: When you read the clue, though, it says, "Who has the balance of a cat and the courage of a lion?" I thought it would require more strength but it required more balance.
Q. Gina, RealityWanted: How did you deal with being eliminated so early on and in the way that you did, for not being able to complete the challenge?
A. Dana: It was tough. There's so much that goes into getting on The Amazing Race. You prepare with your job and your family and leaving your kids. To know early on that your mission isn't going to take place, it's frustrating. We weren't there for a vacation.
The Amazing Race 16 airs Sunday nights at 8/7c on CBS.
(Image courtesy of CBS)

Follow Gina at twitter.com/ginascarpa
For more Amazing Race links, visit SirLinksALot.net