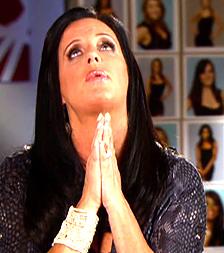 by Michael J. Lamp

Last night, on Millionaire Matchmaker, we met Rupert, your typical ageist Hollywood type- he's a director (Stigmata) who seems to want a young, hottie. Then we met Smike (no, that's not a typo), who has never found the right guy because he's been too busy traveling the world. So we've got a guy looking for a (young) girl and a guy looking for a (youngish) guy. Something for (almost) everyone...

Upon Patti's visit to Smike, we discover that he's made his millions in real estate, flipping houses and renting properties. He's been on a two-year sabbatical, though, traveling the world and finding himself.
Patti confronts Mike about traveling too much. "What are you running from?" Zing! Smike's celeb crush is Mario Lopez. He has a thing for Latin Lovas.
Patti visits Rupert and he proves to be annoying. He wants a woman that is "Twenty-nine and three quarters forever," whatever the hell that means. His silver lining is that his celeb crush is Grace Kelly. That's worth at least two classy points. Patti still thinks Rupert is going to be difficult to work with - I agree.
Patti takes Smike to an astrologist, which he clearly thinks is unnecessary. We find out that Smike needs a free spirit and then Patti geeks out a bit with the astrology expert. Fun times.
Patti and the crew spend some time recruiting for Smike and working on the expansion of the "gay division." We meet several different dudes, with varying shapes, sizes and amounts of hair, and Patti gets a kick out of learning some gay lingo. The last guy, Chad, is Patti's favorite by far, and the segment ends with Patti engaging in a classic spat with Maurice, a super-sassy gay guy who tries, but ultimately fails at matching Patti's superhuman level of 'tude.
Next, Patti looks for girls for Rupert. We see basically all blondies, but at least Patti looks to be throwing in an oldie or two just to mess with him. Should be funny.
No mixer this time. Each guy is getting five, mini dates.
Rupert makes a fool of himself, talking way too much. He gets a lot of young (probably dumb) blondes, per his preferences, but one of his five turns out to be an aforementioned oldie. To be fair, she's not that old. He doesn't go for her, though (shocking!). Instead, he picks Olya, the Russian hottie.
Smike seems mostly into these dudes for their looks and bodies. But he surprises us by not picking the guy who showed off his abs. I was sure he was going down that road. In the end, he sides with Patti and picks the seemingly nice Chad.
Time for the big dates!
Smike wants to show Chad who he is (one with nature), so they start with a hike. Smike continues to talk about being one with the planet, but shuts up in time for a picnic and talk of horoscopes. More horoscope talk? Chad seems into it. There's lots of innocent flirting going on with both guys leaning in a lot. No one makes a move, though. Next up is spa time for the boys. They hop in a tub together, then get a couple's massage. I think Smike is smitten.
The date ends with a champagne toast, overlooking the ocean. It looks like this seals the deal for Chad. He's definitely impressed. And finally, a kiss. Things seems promising for these two. Then again, it's so hard to tell. Chad might get on the phone with Patti and tell her he hated Smike.
Onto Rupert and Olya. I'm less optimistic about this one.
Rupert picks her up in a Limo. Suddenly we realize Rupert has driven Olya into a less-than-awesome neighborhood. And now for twist #2: he's taking her to a mission to help feed the needy. Surprising move, Rupert!
Wait a minute. A weird moment has come. He's harassing her and telling her she needs to work harder. Is he for real? Is he joking?
At dinner, Rupert continues to make awkward jabs about Olya being Russian. It really seems like he's trying to be funny and playful, but he's misfiring like whoa and really creeping Olya out. At one point he even asks her what her favorite strip club in LA is? Really!?!
Patti calls Chad and finds out that he is quite pleased. Smike visits and the feeling seems mutual, until we find out that he's about to leave for Australia. Patti tells Smike to cool his jets on all the travel so he doesn't miss out on Chad. Smike appears to heed the advice.
Patti calls Olya and soon realizes how lame her date was and how strange Rupert is. Rupert meets Patti, peppers her with compliments and then gets his ass chewed out for his subpar performance on the date. Patti was specifically not feeling the trip to the mission.
Smike kept in touch with Chad during his trip to Australia and they are still seeing each other today. A happy ending...in the short term, anyway. On the other hand, while Olya and Rupert did go out again, she has since stopped returning any of ol' Rupert's phone calls. Smart girl.
Millionaire Matchmaker airs Tuesdays at 10/9c on Bravo.
(Image courtesy of Bravo)

Follow Michael at twitter.com/mjlamp
For more Millionaire Matchmaker links, visit SirLinksALot.net