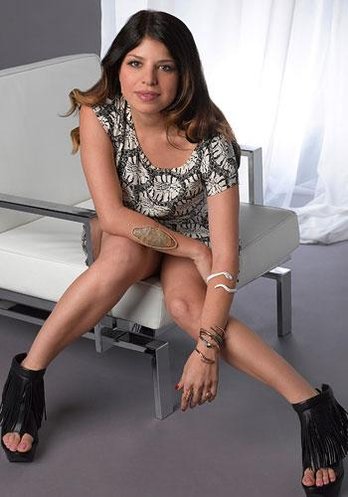 by Chandra Clewley
Launch My Line's winner, Kathy Rose is more than just a jewelry designer in Los Angeles. She is also a wife, mother and spiritualist who is constantly drawn to the earth and animals for her inspiration. Reality Wanted spoke with her today about her big win, and why her final partnership with Jim, Roberto and Emil had its challenges, but they only make you stronger.
Q. Chandra, Reality Wanted: Your background is in jewelry design. What were you doing before the show?
A. Kathy: I have been making the snake bangle for years, it's been on Madonna, Kate Hudson, Penelope Cruise.  I added on those snakes, by doing double snakes, there are these really elegant cuffs that you can shower in, I have added eagles, and now arrowhead rings. I have a store called Roseark, it is a gallery that has over a thousand different designers. Rick Rose, my husband and I, own it and have been doing it for years. We support artists, and I love being inspired by travel, my kids and animals. 
Q. Chandra, Reality Wanted: At what point did you become interested in fashion design?
A. Kathy: I have always, ever since I was young, made little things here and there. I also collaborate with designers in the store. My husband designs suits for the store. I have worked with stylists such as Rachel Zoe and I have always loved fashion. My jewelry can be like my arrowhead necklaces that are opera length and my snakes need to have bare arms, so I have always wanted deep v-necks and I even have necklaces that you wear on your back, I have never seen a designer that makes clothing for jewelry. First of all, I can't believe I made it on the show, but I thought "ah, it just makes sense, I'm going to make clothing for a canvas for jewelry" So, classic, timeless, not trendy but could complement my jewelry that is wearable art. I have a flamingo cuff, turquoise chandelier earrings, all of these things went hand in hand. The best part was that I was able to use gem colors for these pieces, like the saffron yellow, reds, blues.
Q. Chandra, Reality Wanted: How did you decide to go on Launch My Line?
A. Kathy: A friend told me about it, so I auditioned. They really research you. I took my book, and they researched me and I had an article that came out in WWD about my store, Roseark, and they were able to see it, and they knew the snake bracelets. I couldn't believe I was on it! I made it to the third one, then the finale, it's just crazy! 
Q. Chandra, Reality Wanted: How long was the process of taping the show?
A. Kathy: I would say it was about 4-6 weeks.
Q. Chandra, Reality Wanted: In one of the earlier episodes you were burning sage. Is this something you do regularly?
A. Kathy: Definitely. We have the lovers and the haters of it. It's a jungle out there, and I feel like I have a PhD in humanity. I have an affinity for Native American culture, I have complete respect for it.  I have a beautiful woman that does ceremonies at my place, sage is a sacred plant, and we have drumming ceremonies at the store. My jewelry somehow always goes back to nature and goes back to animals. 
Q. Chandra, Reality Wanted: How did you feel about your partnership with Emil?
A. Kathy: I felt like I scored! I sat down with this guy, and the first thing he said was "I'm going to help you win." I knew there was a charge at that moment. Being a mother, and a designer, living in Hollywood, being a wife and being around, I know different personalities. With collaborations, a lot of ego can come in, and he had no ego. I don't work from ego or from fear or from any place like that so I knew that there would be no drama from us. We had a couple dramatic moments, but they were real and human. We had worked so hard, we were so stressed out and the few times we snapped at each other is was about how we were going to handle what was happening.  How are we going to handle that Jim is not showing up? How are we going to handle that Roberto's hands hurt? 
Q. Chandra, Reality Wanted: When you received the two additional designers, how do you feel the dynamic was for the group?
A. Kathy: I thought it was great. First of all, it was insane what we went through. I do not know how we got those amazing pieces on the runway with what we went through. However, I felt that in my life when you think something is bad, it's actually good because I think creativity sparks from not having time to hem and haw. Jim is a master tailor, the boning on the backwards dress and the kimono were amazing. Roberto comes from this couture background and I always called him the fashion police, he was watching everything. I did feel like it was the best of the best. It was hard when we didn't have Jim, and it was hard because of Roberto's hands. We respected Roberto's eye. Jim was an incredible tailor.
Q. Chandra, Reality Wanted: What was your most favorite outfit to design? 
A. Kathy: Definitely the first one. The yellow saffron gown. I really took a risk, I came out with a bang. Saffron is my daughter's name, and I wanted to represent my inspiration. My inspiration was also my snake cuff, and I could envision her in the desert, going down the Nile, she is going to make a statement by wearing saffron yellow. I loved the wild card gown also. The braiding. I was just shocked. I loved how Bravo put this show together. It was just a dream. I never had a lack of inspiration.
Q. Chandra, Reality Wanted: Which outfit was the most challenging for you?
A. Kathy: The outfit to distress. I didn't want it to look cheap, and the fabric I had picked was silky, it didn't look rich, but when I got the pumice stone it ended up looking like I had made raw silk out of pumice stone! It was the most challenging. 
Q. Chandra, Reality Wanted: What is your next step?
A. Kathy: I feel like I have infinite possibilities and the world is my oyster. I am working on with ruelala and Lucky Magazine.  I am still designing the jewelry. Roseark also carries Emil's clothing line.  We just launched out new blog which is Roseark Rated. http://www.rosearkrated.com/ 
Kathy Rose and RueLaLa have put together a discount for anyone that buys something on Ruelala.com and then purchases something from www.roseark.com You can check it out on Ruelala's website where you can also buy the winning looks!
Follow me on Twitter: http://twitter.com/ChandraClewley
For more Launch My Line, visit SirLinksALot.net
(Image courtesy of Bravo)