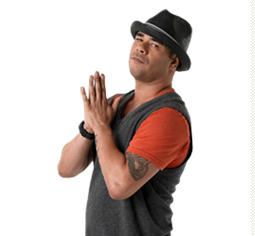 by Gina Scarpa
Eric Cubeechee is a Los Angeles native who is one of the most premier Disc Jockey's on the radio and in clubs today. Well known in Southern California for his music and lifestyle, he also has a son, Desi Jay with ex-girlfriend Jaime Pressly. Eric named his fashion line "Desi Jay" after his son and came in as the second runner up on last night's finale of Launch My Line.
Q. Gina, RealityWanted: Eric, you have a long and illustrious career as a D.J. in Los Angeles.  How long have you been interested in fashion?
A. Eric: In fashion, I've always been interested ... it goes along with DJing. If you're a DJ, you always have to be in fashion. You don't wanna look like a hack. You always wanna look good. I've always been about it and my friends have been up on it. It's a big thing.
Q. Gina, RealityWanted: What made you decide to go on Launch My Line?
A. Eric: It took a little bit of convincing. My manager was like, "Do you think you can do this?" It's different to do a men's line as opposed to a women's line. I thought, Who better to do a
Q. Gina, RealityWanted: How did you feel about being partnered with Galina?
A. Eric: Galina's the best. We got along the best. We never argued... maybe once. We knew what we were going after. She's been to Studio 54. I wish I had gone there. That's where it went down, you know what I mean?
Q. Gina, RealityWanted: After watching the show, how do you feel about the comments and criticism that Merle had toward you and Galina?
A. Eric: Yeah, I have a lot to say. I thought Kathy was one of the sweetest people in the world. Merle's kinda hacky. I'll tell you what her problem is. She talked a lot about my clothes but she couldn't wear it. Merle couldn't get into one of my clubs. That's her problem. She couldn't get into Vanity on Sunday nights. She couldn't get into Playhouse on Thursday nights. That's her problem.
Q. Gina, RealityWanted: How did you feel about your line in its entirety?
A. Eric: I thought I was going to be one of the first ones out this season. I wanted to throw my hat in there to see what I could do. I'm one of those guys that I want to work. I want to learn. After the first round I was like, "Wow this is pretty cool." After the second round, I learned to sew. Galina started teaching me and I started getting into and I thought it was so cool. I was pretty proud of myself and a lot of my friends were pretty proud of me. I'm a pretty Cuban, macho dude but I was doin' it. I was really happy. Galina was the best. Dean and Dan were so helpful.  It was a great experience.
Q. Gina, RealityWanted: What are you working on now?
A. Eric: I gotta couple things in mind. Right now, I'm at the airport and I'm traveling around the country DJing. That's what I usually do but I have a couple things in mind. There are a lot of other things popping off but I just can't talk about them yet.

(Image courtesy of Bravo)

Follow Gina at twitter.com/ginascarpa
For more Launch My Line links, visit SirLinksALot.net