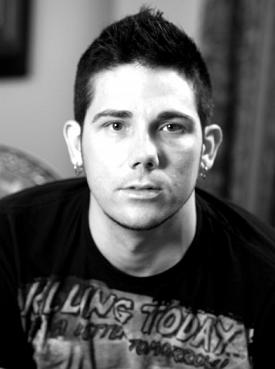 by Christopher Straub
Project Runway Season 6
Episode 3: "The Hi's and Low's of Fashion" or "Jesse's Gonna Punch Someone"

So I actually watched this week's episode of Project Runway in HD for the first time. I was so happy seeing all of the little details that I was missing. It TOTALLY makes a difference.

I always love the morning yackety-yack in the apartments. It's the only time you get to see real interaction from the designers. No deadlines, no interviews, just normal-ish people getting ready to have their pride torn apart on TV.

The designers meet Tim at the MET in New York and standing before them is a bunch of historical, iconic, looks. Designers...please don't touch the fashions.

You knew it was coming...Teams. I hate teams. I, personally, was lucky enough to work with Logan and Epperson on my season so it wasn't that bad.

The challenge is to create a signature look in two days. How hard is that to do with two people? Two designers working on one garment...I smell a surprise challenge...

Teams are:
Maya and Jay
Jesus and Amy
Seth Aaron and Brown Sugar
Ben and Janeane
Mila and Jonathan
Jesse and Ping
Emilio and Anna Marie

Sketch sketch sketch.

The designers get $500 at Mood to create their look...Jesse wants to punch Ping in the face...He's not on my "like" list right now...Thanks Mood.

Sew sew sew.

Surprise! Create a second "Look for Less" using $50 and based on another teams look.

Shocking.

So, here's the deal...They're in teams but they need to create an iconic, signature look. Well, what happens if they don't share the same design aesthetic? It looks like most of them don't. THEN, add a second challenge where they are asked to, essentially, mimic another designer's look. I bet you know what's going through my head, right? How are we going to see each designer's personality come through when there are all of the other factors?

More sew sew sew.

Let's start the show...

(The following statements are made as the models are coming down the runway. This is before seeing the top 3, bottom 3 and listening to the judge's thoughts.)

Team Wacky Sitcom (Anthony and Seth Aaron)
Look 1. Yellow and black gown. Love all the detail work at the bust and waist. The skirt needs more texture in the front or something. It looks too flat.
Look 2. Inspired by Team Cuties. Lace dress with solid black bust. I do like the fact that they did the black just in the front of the dress.

Team Cuties (Jesus and Amy) They are just too cute!
Look 1. Patchwork gown and architectural bolero. Cute bolero...don't like the neckline on the dress.
Look 2. Inspired by Team Confrontation. Lace tank and billowy pants. Goodish look for less with the use of separates.

Team "We Didn't Get Along" (Mila and Jonathon)
Look 1. Black and white jacket and black separates. Oh, I feel a winner coming on...Great use of textures and shape.
Look 2. Yellow and black babydoll dress. Its fine, I guess. I think they could've played with the design a little more. No need for the tulle poof on the bust, for sure.

Team Quiet (Janeane Marie and Ben)
Look 1. Black and brown mini with cropped bolero. Great details but nothing original. Meh.
Look 2. Inspired by Team "We didn't get along". Sporty jacket and LBD. Nice interpretation. Also, they had 2 pieces for the $50! Good budgeting, kids.

Team Annoying (Emilio and Anna Marie) Sorry, I'm just a little bothered by Emilio's presence on the show.
Look 1. Black dress with boring details and boring jacket...double meh. You had a LOT of moolah to spend, here. Where is the other $462??? She better be wearing $400 panties!
Look 2. Inspired by Team "Bag o' Tricks". Earthy striped dress. Cute piece but based SOOO loosely on the original design.

Team "Bag o' Tricks" (Maya and Jay)
Look 1. Black gown with gold shoulder waves. This is TOTALLY a Maya piece. It has the same elements as here first dress...I liked that one better. I just seems so contrived and expected.
Look 2. Inspired by Team Quiet. LBD and jacket. SAME shape and style as the original but with 10% of the budget...not looking good for Janeane Marie and Ben.

Team Confrontation (Ping and Jesse)
Look 1. Lace and silk dress. This is BY FAR the best constructed look that either one has sent down the runway. But why is she carrying it? Please drop the dress and show us what it looks like...please?
Look 2. Inspired by Team Annoying. Grey top and black skirt. Clean and simple but not a lot there. Looks very Kors.

My faves: Jonathon/Mila, Anthony/Seth Aaron
My NOT faves: Maya/Jay, Janeane Marie/Ben, Emilio/Anna Marie
Judges like Jay/Maya and Jonathon/Mila. They don't care for Jesse/Ping and Anthony/Seth Aaron.
Top honors go to Mila...AS IT SHOULD. I guess the world is not ready for Ping and she is sent to an island where she, Pamela, and Christiane can run free.

Don't we just love the drama that comes from team challenges?
Find me on Facebook or follow me at twitter.com/schmistopher. Be sure to stop by my webstore at christopherstraub.com


Project Runway airs Thursdays at 10pm ET on Lifetime.

For more Project Runway links, visit SirLinksALot.net